Toronto Blue Jays sign big deals with TheScore Bet and Mary Brown's
The long-term deals include broadcast, stadium signage and bars and concessions at the Rogers Centre.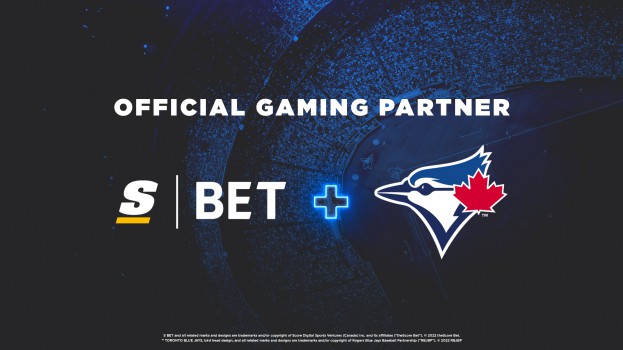 Opening day is almost here and the Toronto Blue Jays are busy signing long-term deals – not with players, but with some major sponsors.
The Blue Jays have signed a 10-year exclusive partnership making TheScore Bet its official gaming partner.
The partnership follows the recent opening of Ontario's legalized online gambling market and is TheScore Bet's first professional team sponsorship. The deal gives TheScore Bet exclusive national marketing rights that extend across all gaming categories, including sports betting, casino, online casino and fantasy sports. It will also provide in-stadium and digital offerings to fans through various sponsorship elements, including two immersive premium seating sections on the baselines, extensive in-stadium branding, in-game features, team-related experiences, and designates TheScore Bet as the presenting partner of the Jays Care 50/50 program.
Additionally, the two companies plan to create a branded, flagship sports bar and restaurant that will be open year-round at the Rogers Centre and will serve as an entertainment hub for fans.
"With our combined loyal audiences and brand affinity in Ontario, we believe this deal will establish a new standard for team and gaming operator relationships as we pioneer innovative ways to experience and interact with the game," said John Levy, CEO of TheScore Bet.
The Blue Jays also signed a partnership with Mary Brown's Chicken this week. The deal marks the beginning of a five-year sponsorship and the opening of a Mary Brown's Chicken concession location at Rogers Centre.
The deal makes Mary Brown's an official partner and rights holder of the Toronto Blue Jays, and will expand the brand's presence in-stadium, on national broadcasts, and on digital and social media.