Upfronts 2022: CBC sets new dramas and builds comedy slate
The pubcaster's fall slate includes several co-productions it says are key to delivering the "huge productions" audiences expect.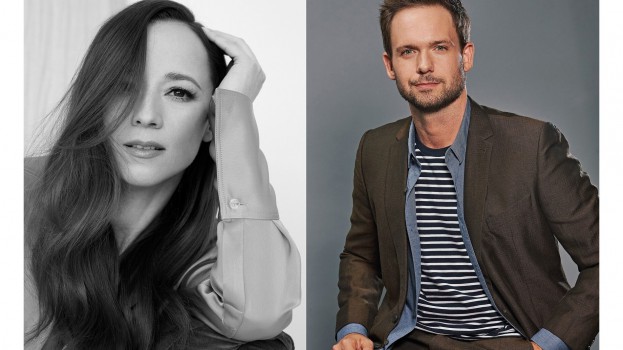 By Victoria Ahearn
Canadian dramas Plan B, Essex County and Bones of Crows are among the new series in CBC's 2022-23 programming slate, which will build on last year's big scripted comedy push, but won't see the return of police procedural Coroner or sketch series TallBoyz.
More than 40 original series and specials from Canadian storytellers were on the docket during CBC's Upfront on Wednesday, with other new titles including Arctic thriller The North Water, Northern medical adventure Skymed, reality competition Canada's Ultimate Challenge and factual entertainment series Bollywed.
Fresh drama series in the CBC slate include the psychological Plan B, set for a winter 2023 premiere and created by Jean-Francois Asselin and Jacques Drolet. It's an English-language adaptation of the Radio-Canada series produced by Montreal's KOTV. Karine Vanasse and Patrick J. Adams star (pictured, above) in the Montreal-set story of a man who uses time travel to try to save his relationship.
Essex County is based on the graphic novel trilogy by Canadian comic book writer Jeff Lemire (Sweet Tooth, Moon Knight). The limited family drama is set to premiere in winter 2023 with a story of "four disparate characters linked together through bloodlines." The series was first announced as in development in 2015 and has been "a labour of love for" the pubcaster and a deeply personal story for Lemire, says Sally Catto, general manager of entertainment, factual and sports at CBC.
Filmmaker Marie Clements' five-part Indigenous miniseries Bones of Crows, which follows a Cree matriarch as she survives Canada's residential school system, is slotted for a 2023-24 premiere. The generational drama will premiere following the theatrical release of its film version in 2022-23. The series was commissioned by CBC/Radio-Canada in association with APTN and created by Clements.
CBC, Super Channel and Toronto's Rhombus Media are all partners on The North Water as part of a copro with the BBC and the U.K.'s See-Saw Films that falls within the Canada/U.K. treaty. The series premiered on Super Channel Fuse last September and will premiere on CBC this fall, starring Colin Farrell and Jack O'Connell in a story of an Arctic whaling expedition in 1859.
"We cannot really do huge productions with budgets like audiences expect to see today without partners, so this one is a great one for us," says Catto.
CBC also partnered with U.S. streaming service Paramount+ on medical drama Skymed, created by Julie Puckrin (X Company, Transplant). The series, featuring young First Responders in the remote North and filmed in Ontario and Manitoba last year, premieres this summer.
Catto says the upcoming slate is like a "sophomore year" for the slew of comedies that launched last year, including Sort Of, Son of a Critch, Run the Burbs and Strays, as they enter second seasons. "We're really now letting those comedies grow and evolve and just continue to build," she says.
Also building on that genre is new original factual series Comedy Night with Rick Mercer, a series of one-hour standup comedy specials premiering this fall.
Premiering on CBC Gem this fall is the comedy Fakes, which features two best friends who build a fake ID empire. Created by David Turko as a co-production with Netflix, Catto says the series appeals to a younger demographic, which CBC is trying to capture on Gem, where there's been "a significant increase in audience."
Other returning comedies include Pretty Hard Cases with its third season, Workin' Moms with season seven and the 30th anniversary of This Hour Has 22 Minutes.
Returning dramas include Heartland, Murdoch Mysteries, Moonshine and Diggstown.
However, Coroner is not on the schedule after four seasons as star Serinda Swan "has decided not to return" to the show, says Catto. "She is going to focus on new creative endeavours, including directing, and so we're discussing options with the producers at this point. That's what I can say about that."
Coroner has been nominated for numerous Canadian Screen Awards and has been licensed to around 150 territories, with acquisitions including The CW in the U.S., Netherlands media company Talpa Network, Sky Italia, and Italy's Rai.
Meanwhile, TallBoyz has not been renewed after three seasons, the last of which swept the sketch comedy categories at the Canadian Screen Awards in April. Catto says the pubcaster is proud to have watched the stars grow over the past three years and looks "forward to working with that team in different ways in the future."
Bruce McCulloch of The Kids in the Hall fame served as showrunner on TallBoyz, which starred Guled Abdi, Vance Banzo, Tim Blair, and Franco Nguyen. All three seasons of the series were acquired by U.S. pay TV channel Fuse in March.
On the factual side, Canada's Ultimate Challenge is a show format in which Canadians are mentored by six superstar coaches as they navigate a cross-country obstacle course of physical and mental challenges at iconic locations. It's set to premiere in winter 2023 with coaches including Donovan Bailey, Waneek Horn-Miller, Clara Hughes, Gilmore Junio, Jen Kish and Luke Willson.
Also new is Bollywed featuring the Singh family, who run a bridal shop in Toronto's Little India. The series is scheduled for a winter 2023 premiere.
The inaugural 90-minute telecast of The Legacy Awards from the Black Academy will air Sept. 25.
Other new factual titles include CBC Gem original Lido TV, hosted by Colombian-Canadian musician and artist Lido Pimienta. The variety show debuts this fall.
Stuff the British Stole is a six-part series for the ABC and CBC. Based on journalist Marc Fennell's ABC Podcast, which also launched by CBC Podcasts in fall 2021, the series premieres in winter 2023.
There will also be new seasons of Dragons' Den, Family Feud Canada, The Great Canadian Baking Show, Race Against the Tide Still Standing and Best in Miniature.
Original documentary programming includes the Canada-Russia hockey story series Summit '72 premiering this fall; CBC Gem's Stay Tooned from Fathom Film Group, which features cartoon voiceover artist Eric Bauza and debuts in winter 2023; and new seasons of The Passionate Eye featuring The Nature of Things and Jennifer Baichwal's doc Into the Weeds.
On the CBC Kids side, new titles for preschoolers include the animated musical Jeremy and Jazzy and Mittens and Pants. Both premiere this fall.
In a statement, CBC EVP Barbara Williams said "no other media company in Canada offers the remarkable range of homegrown storytelling that" CBC does, "fulfilling the opportunity for people in communities across the country to see themselves represented in new ways."