Snap debuts first Canadian original
The ten-part series "Reclaim(ed)" dives into issues facing Indigenous people from a Gen Z perspective.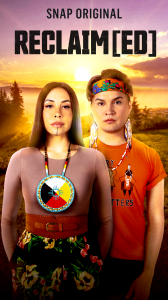 Snapchat has launched its first Canadian Snap Original series, "Reclaim(ed)."
The 10-part docu-series produced by Indigenous-owned and controlled production company Eagle Vision, is hosted by Indigenous Canadians Marika Sila and Kairyn Potts. The show is a part of the Snap Originals collection, available in a mobile first format through the Snapchat app. Each episode is typically around five minutes in length, full screen and immersive. They are vertical, paced for mobile, hyper-visual, featuring graphics, split screens, and quick cuts.
The show delves into the culture of Indigenous groups in Canada as a way to reframe and reclaim traditions and social issues from a Gen Z point of view. The series will air new episodes weekly on Tuesdays through Sept. 13, just ahead of National Truth and Reconciliation Day later that month.
Advertising opportunities are available and, as with all Snap Original series, are sold as season-long sponsorships in packages with other video products like Commercials, Snap Select and First Impression Takeovers.
The first episode outlines the experience of co-host Kairyn Potts, a proud two-spirit winkte man from the Alexis Nakota Sioux Nation, as he navigates the impact colonization had on 2SLGBTQ+ people's important and traditional community roles. The hosts also discuss the role of elders in Indigenous communities and the support and acceptance they can provide young people as they struggle to find their identity.