Snapchat launches on desktop
The feature is part of the company's new premium subscription tier.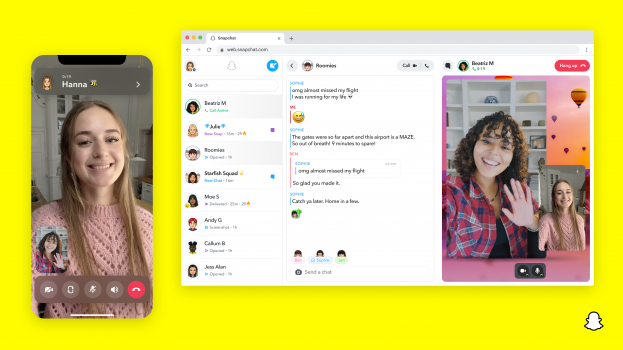 After being mobile-only for the entirety of its existence, Snapchat is now available to users on laptop and desktop computers.
Currently only available through Google Chrome browsers, Snapchat for Web features all of the same chat and photo messaging features of the mobile app, but through a platform the company's users are spending an increasing amount of time with.
That's especially true when it comes to things like video calls, something Snap is emphasizing with its desktop service. The company's signature lenses are expected to come to video calls on the web interface in the near future.
Snapchat for Web is currently available in Canada, United States, United Kingdom, Australia and New Zealand, with expansion to other markets planned for the future.
The web service is only available to Snapchat+ subscribers, the first major feature to be added to the premium tier since it launched earlier this month. In addition to being to first to try new features, Snapchat+ also allows users to see who re-watched their Snaps and their friends' recent locations.
Snap has joined other social platforms like Twitter in releasing premium tiers that give users access to exclusive features. These tiers aim to give the companies an addition revenue stream, something that may be more important as ad revenues stagnate amid new industry privacy standards. Snap is one of several ad-focused companies to repeatedly cite Apple's ATT privacy framework form declines in recent quarters.