The Amazing Race Canada keeps its hold on the top: Numeris
Meanwhile, 9-1-1 takes over as the most-watched show among Francophone audiences.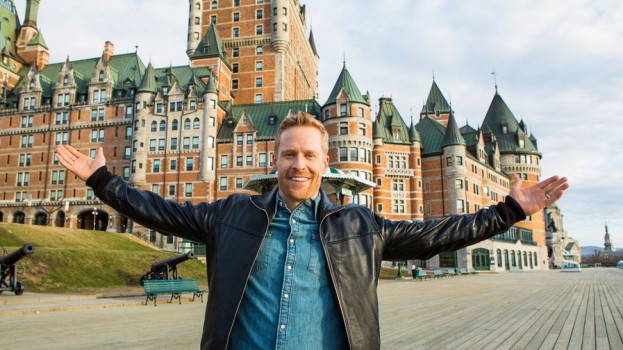 The Amazing Race Canada is continuing its streak as the most-watched summer program in Canada, according to Numeris data for July 25 to 31.
The reality competition show was the highest rated show nationally once again, followed by the Wednesday episode of Big Brother and Masterchef. America's Got Talent slipped from second the fourth.
The Amazing Race Canada was also the top program region across major markets, except Vancouver/Victoria (where it was in second behind America's Got Talent) and Montreal (where there was a three-way tie for top between America's Got Talent, Coronation Street and Masterchef).
In Quebec, the end of Un zoo pas comme les autres' most recent season allowed 9-1-1 to take over the top spot in the Francophone ratings, followed by La recrue and Van aventure.
National
1. The Amazing Race Canada on CTV Tuesday at 9 p.m.: 1.405 million
2. Big Brother on Global Wednesday at 8 p.m.: 959,000
3. Masterchef on CTV Wednesday at 8 p.m.: 940,000
4. America's Got Talent on Citytv Tuesday at 8 p.m.: 917,000
5. Big Brother on Global Sunday at 8 p.m.: 884,000
Quebec (Francophone)
1. 9-1-1 on TVA Tuesday at 8 p.m.: 699,000
2. La recrue on TVA Monday at 9 p.m.: 631,000
3. Van aventure on TVA Tuesday at 7 p.m.: 566,000
4. Escouade 99 on TVA Tuesday at 7:30 p.m.: 500,000
5. La belle tournée on TVA Monday at 8 p.m.: 489,000
Toronto/Hamilton
1. The Amazing Race Canada on CTV Tuesday at 9 p.m.: 247,000
2. America's Got Talent on Citytv Tuesday at 8 p.m.: 206,000
3. Big Brother on Global Wednesday at 8 p.m.: 194,000
4. Masterchef on CTV Wednesday at 8 p.m.: 174,000
5. The Challenge: USA on CTV Wednesday at 9 p.m.: 163,000
Montreal (Anglophone)
1. Coronation Street on CBC Monday at 7:30 p.m.: 39,000
1. America's Got Talent on Citytv Tuesday at 8 p.m.: AMERICA'S GOT TALENT Citytv Montreal (CJNT)+ .T….. 20:00 22:01 1 39
1. Masterchef on CTV Wednesday at 8 p.m.: 39,000
4. Law & Order: Special Victims Unit on Citytv Thursday at 9 p.m.: 30,000
4. Big Brother on Global Sunday at 8 p.m.: 30,000
Calgary
1. The Amazing Race Canada on CTV Tuesday at 9 p.m.: 68,000
2. America's Got Talent on Citytv Tuesday at 9 p.m.: 44,000
3. Global National on Global Sunday at 5:30 p.m.: 42,000
4. FBI: Most Wanted on Global Tuesday at 8 p.m.: 38,000
5. Departure on Global Wednesday at 10 p.m.: 36,000
Edmonton
1. The Amazing Race Canada on CTV Tuesday at 9 p.m.: 84,000
2. America's Got Talent on Citytv Tuesday at 9 p.m.: 69,000
3. Big Brother on Global Wednesday at 9 p.m.: 52,000
4. Global News Morning on Global Saturday at 7 a.m.: 51,000
4. Masterchef on CTV Wednesday at 8 p.m.: 51,000
Vancouver/Victoria
1. America's Got Talent on Citytv Tuesday at 8 p.m.: 163,000
2. The Amazing Race Canada on CTV Tuesday at 9 p.m.: 117,000
3. Global National on Global Sunday at 5:30 p.m.: 107,000
4. Masterchef on CTV Wednesday at 8 p.m.: 94,000
5. Alone on History Thursday at 10 p.m.: 91,000