Royale, Glad and KitchenAid among the new sponsors for Top Chef Canada
Nine sponsors will activate with a mix of product integration and prizing.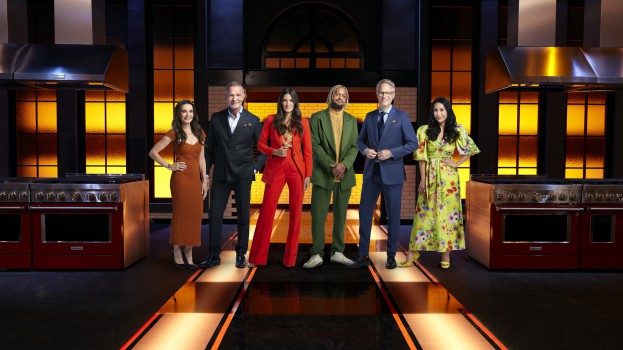 Food Network Canada's Top Chef Canada will return for its 10th season on Sept. 26, and has some impressive sponsors already lined up, both returning and new.
A grand prize sponsor for the first time, Royale Tiger Towel paper towel will provide Canada's Top Chef with a $100,000 cash reward. The brand will also be stocked in the locker room and at the chefs cooking stations and will partake in a Quickfire Challenge where it will award the winner an additional $5,000.
Lexus returns as the official vehicle of the series. As a grand prize sponsor for the third season in a row, the carmaker will offer this year's winner a Lexus NX valued at over $55,000. The vehicle will also be featured in-show.
KitchenAid will outfit the entire Top Chef Canada kitchen with countertop and major appliances. As a grand prize sponsor, Canada's Top Chef will be awarded with their own kitchen courtesy of KitchenAid appliances, valued at approximately $16,400. KitchenAid will also partake in the Quickfire Challenge, offering the winner $5,000.
Meanwhile, at each chef's cooking station, Glad compostable bags and recycling bags will be included, while the brand will contribute to the grand prize, awarding the winner with a farm-to-table experience valued at $10,000.
DoorDash will sponsor the digital clock in the Top Chef Canada kitchen and the Restaurant Wars Challenge with a $5,000 prize awarded to the winner. Upfield Foods' Becel and Violife brands will sponsor an Elimination Challenge by providing a vegan feast and a $5,000 prize to the winner with the best progressive tasting menu.
Avocados From Mexico will reward a $3,000 cash prize to the chef that makes the best meal with avocados. Winery Campo Viejo joins as the season's official wine sponsor, stocking the pantry and locker room with bottles of their wine and offering a $5,000 prize for the Quickfire Challenge.
Finally, Canadian sparkling water sponsor Montellier will be featured in the chefs' locker room this season and at the judges' table. The brand will also provide a $5,000 prize for the chef that can best utilize opposing ingredients in a Quickfire Challenge.