Spotted! Simply Orange offers a juicy retreat
The Coca-Cola brand stops pedestrians in their tracks with a pop-up oasis in Toronto's bustling city-centre.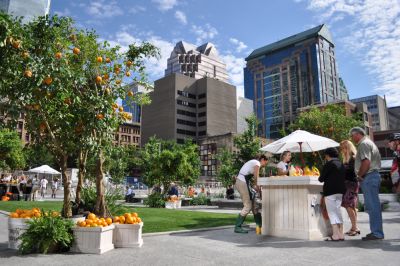 Torontonians were given a "Simply Orange" taste of the countryside when the Coca-Cola-owned Minute Maid brand set up a makeshift grove and gave out drink samples yesterday.
The pop-up oasis is just one small component of the brand's $3 million media campaign, Penny Ginsberg, brand manager, Coca-Cola, tells MiC.
Just last month, MiC readers Spotted! Simply Orange billboards, with media by UM Canada and creative from Zulu Alpha Kilo, being planted all over the city. The campaign also includes print, in-store, and now an experiential stunt (planned to hit Vancouver on Aug. 28).
"We wanted to show just how pure and natural the juice is and how it comes straight from the grove," says Ginsberg. "We thought this would be a great link."
Born in the US, Simply Orange is looking to create more pull in Canada and will continue to conduct mini-events in the city and eventually establish itself in the market, says Ginsberg.
The brand also plans to partner with other Coca-Cola brands by offering in-store drink bundles and values to help bring in new customers.
Have you seen an amazing media execution in your part of the country? Send it in before the end of July to vmaloney@brunico.com for a chance to be featured on MiC and win a free entry to this year's AToMiC Awards.