Maille couples its latest campaign with a tour
The mustard brand is attempting to increase market share with a tasting tour, along with new TV spots in Quebec and outdoor placements in English Canada.
Maille is flaunting its Dijon mustard with an experiential tasting tour that adds Parisian luxury to the Canadian landscape, alongside a TV and OOH campaign in support of its effort to increase market share in the country.
Mindshare worked on the placement of 30-second spots on Quebec stations (including Canal Vie, Canal D, Histoire, Serie + and Z tele), as well as positioning of bus shelter ads in Toronto, Calgary and Vancouver.
Because the campaign will also be seen in the US, the creative was originally developed by Connecticut-based Source Marketing, with 6 Degrees in Toronto adapting the material for the Canadian market, Marie-Eve Brunet, La Corporation des aliments I-D/I-D Foods Corporation, tells MiC.
The 265-year-old brand has a sound share of the market in French Canada, says Brunet. "In Quebec, the market share is close to 70%. In western Canada, it's 44% and for Ontario it's close to 35%," she adds, further explaining that the core objective is to increase share in the English region as well as recruit consumers to taste its mustard.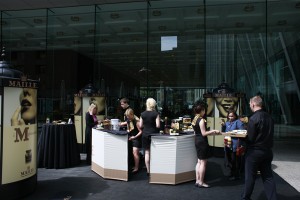 Hence the launch of an experiential sampling tour. Toronto, Vancouver and Montreal are all stops on the itinerary with branded installations, modeled after Maille's Paris boutique and created by Boom Marketing and 6 Degrees, travelling to different locations (starting at Brookfield Place this week in Toronto) until September.
For the campaign and tour, adds Brunet, the target is both young adults looking to try new recipes with its products as well as baby boomers who have an affinity to the brand's heritage.