Spotted! Drambuie gives consumers a ride
The Scottish liqueur brand is trying to raise its profile with males aged 25 to 34 with a campaign that offers consumers a ride in an old-fashioned branded taxi.
Scottish liqueur brand Drambuie is looking to raise its profile with its core target of Canadian males aged 25 to 34 through its new "Taste of the Extraordinary" campaign.
With media by Denneboom Media and experiential by Toronto-based Mango Moose Media, the campaign's key component is a branded old-fashioned London taxi, which will be based in Toronto in the Queen West neighbourhood, and offer those who find it free rides and a psychedelic experience. The taxi is equipped with a video screen, which will play a 2012 commercial for the brand that was created by UK-based creative agency Sell! Sell!
Passengers can also take quizzes about the brand for a chance to win prizes, and opt to have their experience recorded so they can share it with friends.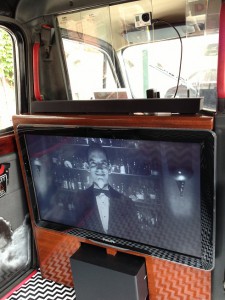 Rounding out the experience, the taxi will be available at events sponsored by the brand, including Nuit Blanche, Toronto Cocktail Week and Art Gallery of Ontario's First Thursdays.
Kayla Landen, media advisor, Denneboom Media, tells MiC that the spend for this campaign is on par with past Drambuie efforts, adding that this mix of media and events was the ideal way to bring consumers into the world of the brand, drive sampling and offer them a service they can use.
The taxi activation is supported by social media, including the hashtag #DrambuieTaxi, as well as by custom content in The Grid, which will feature Toronto bartenders talking about what's cool in the city. Rounding out the campaign, the spot from the taxi will also be running at the Bloor Hot Docs cinema.
Landen says this is the first time Drambuie has leveraged cinema spots, adding that the brand opted for a small paid media approach because it wanted the campaign to be more about consumers being surprised and discovering the brand.
She adds that the "Taste of the Extraordinary" campaign is a departure from the brand's previous efforts, which focused on its history, noting that the brand's goal was to change consumer perception that Drambuie is "your grandfather's drink."
The taxi and the campaign will run until mid-November.