Ivanhoe Cambridge asks Black Friday shoppers to give back
The mall network has launched a campaign for Throwaway Thursday, which rewards shoppers for bringing in donations on the busy shopping day.
Ivanhoé Cambridge is trying to draw shoppers to their network of shopping centres in Ontario, Quebec and Nova Scotia this Black Friday by appealing to their giving side.
The company has launched Throwaway Thursday, which asks shoppers to fill bags with unwanted clothes for donation prior to the big day. The first 200 shoppers to bring in their donations at each mall on Black Friday (Nov. 29) will receive a free gift card. It's the first time Ivanhoé Cambridge has grouped its network of malls with one campaign for the busy shopping day.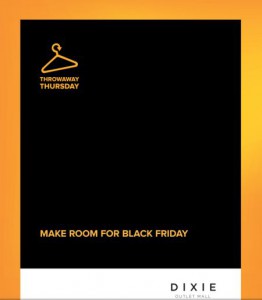 With each of the 24 participating malls handling their own media in their respective local market, and creative by John St., the campaign uses a mix of in-mall signage, local transit shelter ads, radio and digital display ads, as well as custom-designed "throwaway" bags. The campaign is designed to entice existing shoppers, primarily women 35 to 50, into the malls on what has become a competitive day for Canadian retailers.
"Throwaway Thursday is a way to put our own spin on a day that every other retailer is talking about at this time," says Joanne Ross, director, regional marketing at Ivanhoé Cambridge, in a release.