Connectivity, smart tech and virtual worlds rule CES
Touche! and PHD Montreal's VP digital media Charles Etienne Morier shares insights on how media buyers can leverage the latest tech innovations coming out of the show.
Charles Etienne Morier, VP digital media, Touché! and PHD Montreal, spent the week at the Consumer Electronics Show in Las Vegas, taking in all the shiny new tech that may soon play a role in an advertiser's media budget. Here are his observations from the show floor.

Like the city hosting the event, the Consumer Electronics Show is an exhibition of excessiveness. It's colossal. Over the years, we have witnessed many new product announcements from CES that have fundamentally changed consumer media behaviour, such as the VCR, the Camcorder, the DVD and HDTV.
CES has now become the ultimate annual celebration of innovation and technology. And there have never been so many media professionals attending. Why? Technology is by far the largest driver of change in communications, and in this hyper-connected world we are entering into, the proliferation of consumer data will be fundamental and critical for marketers. Advertisers that can use this data properly will have an edge on their competitors.
So what did we find distinctive this year at the CES? What are the key trends? Well, it's safe to say that everything is becoming connected. And when I say everything, I really mean everything, from light bulbs that integrate a Wi-Fi hotspot to beds that monitor your sleep and adjust the temperature. As the technology evolves, we can see that manufacturers are looking to create more "transparent" devices that disappear and blend with your jewellery, objects or apparel and become more intuitive, intimate and constant.
This year, we can see the explosion of wearables and sensors of all kinds. Connected homes and smart cars are becoming more concrete, even if we saw this in past years.
Here are some other key takeaways and trends.
Wearable devices are moving from fitness to a wider universe of well-being and a health monitoring system: There was a bracelet that measures UVA and UVB radiation and flashes to recommend that its wearer apply sunscreen. These wearable fitness devices are becoming more stylish and are being made into luxury items. The next step is getting more of them to integrate more useful tracking, such as measuring vital signs.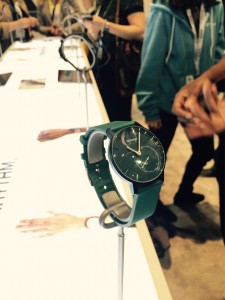 While there were not a lot of apparel wearables at CES, we see more brands getting on board to develop their own platform, to work across multiple devices, such as Under Armour's social app that connects with 150 different devices.
Drones multiply: There were 30 drone exhibitors (30!), including one with a GoPro camera that filmed session activities. It will be interesting to watch where drones go in terms of regulations and privacy concerns.
Cars are becoming smarter and autonomous: The conference was the site of the launch of OnStar Concierge (AtYourService), which connects drivers with retailers and merchants, providing information, advice and offers related to a motorist's specific destination. In addition, OnStar Advisors can now help locate hotels and make reservations. There was also a lot of discussion around driverless cars, which are expected to hit the market massively by 2025. We saw the early test with a new Tesla Model S that has an autopilot system including a radar, sonar and infrared camera. As well, embedded connectivity with 4G is coming and will be essential.
Connected homes move into the kitchen: There were a lot of exhibitors in this sector, particularly related to security, climate comfort, surveillance and access. We also saw Whirlpool's oven with a projector in its hood that displayed recipe's on its back splash. 

This might be the year augmented reality and virtual reality really take off: We can see a lot of opportunities with retailers, not necessarily only with gaming. For instance, Lowe's developed an AR system that lets users remodel their kitchen and see what it will look like. Marriot also created a virtual reality system for would-be travellers to visit their next destination. There will certainly be a need for more VR content production, and we also saw some brands doing early tests for this type of content, such as Red Bull or Acura. Eye tracking and iris recognition technology is also coming, so we can expect more Minority Report like ads in the future.
We see a variety of connected devices that are increasingly sophisticated. The technology is even more intuitive and focusing more on the quality of life. This notion of constant connectivity will have a major impact as marketers and advertisers will be able to collect a mass amount of consumer data in order to better target consumers. This data explosion is extremely valuable but raises more important questions related to privacy. Do I want advertisers to know my blood pressure, or that I'm not getting enough sleep? We see more platforms and opportunities for commercial communications, which are also opening up creative media opportunities.