Brands win music fans with samples and free wi-fi: study
While Canadian concert-goers feel that sponsorships should be more subtle, but offering sponsored wi-fi, air conditioning or even a shower station will win favours.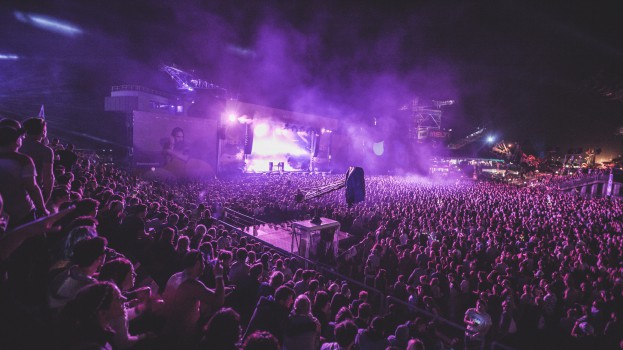 For brands wanting to catch the attention of Canada's most enthusiastic concert-goers, the answer might not lie in Snapchat filters and social media influencers.
According to Nielsen's inaugural Canadian Live Music and Bands Report, the key to winning the favour of music fans is to offer tangible benefits — like free samples, showers and, of course, wi-fi.
The study, which surveyed more than 1,200 Canadians (age 18+, all of whom had attended at least one festival in the last year) sought to explore how Canadians spend their money on live music — and how they feel about the brands that associate with music festivals. Events attended by the respondents included the CBC Music Festival, the Calgary Stampede, the iHeartRadio Music Festival, Ottawa BluesFest and more.
What wins fans
When asked what made them feel more favourably about brand sponsors, the most popular way was through free merchandise or product samples, which 64% of respondents said made them feel positively. Examples of brands giving free samples and merchandises at festivals include Kraken Rum's black ice cream sampling at the CBC Music Festival and Mountain Equipment Co-Op providing batteries and other supplies at the Big Feastival.
Wi-fi is also considered a priority at these festivals (which shouldn't come as a surprise since 70% of all attendees and 86% of millennial attendees engage with social media during the events). Brands who offered a wi-fi hotspot won the favour of 56% of respondents. Almost as popular as wi-fi is air-conditioning – 50% of respondents felt positively about brands that hosted an air-conditioned tent, while 49% felt more enthusiastically about brands if they sponsored showers or bathrooms.
Other sponsorship that less than half of the respondents said they enjoyed included drinking areas and photo booths.
But the study also showed that attendees don't simply fall in love with everything a brand does at a music event. When asked what would result in viewing a brand more favourably, actions that barely resulted in any positive response included sponsoring a Snapchat geofilter or facial lens, broadcasting the events in VR or 360, or putting a logo near the main stage. Having influencers on site to promote a product at the event also wasn't popular when the influencer themselves wasn't associated with music.
The most popular pieces of positive feedback about brand partners at events were that sponsorships gave attendees good opportunities to try new things and provided opportunities for more fun things to do at the events. However, the most common negative piece of feedback was that brand sponsorships should be more subtle.
Gauging festival habits
As for how brands influence behaviour following the shows, 13% of respondents purchased something from brands that sponsored the events afterward (15% of millennial respondents). Additionally, 12% said they went on to learn more about the brand.
The study also looked at what behaviour people engaged in onsite at concerts and festivals, allowing brands to better understand where to reach attendees. Facebook was the most popular social media platform for people to engage with at events, with 59% of respondents posting to the platform (70% among millennials). The next-most popular social platform used at events was Instagram (32%), followed by Twitter (26%) and SnapChat (22%).
Unsurprisingly, respondents said watching the headlining act is more interesting than opening acts (63% watch the headliner, only 50% prioritize seeing the opening acts as well). And almost as important as the music itself was the social aspect, with 57% of respondents saying they see the events as opportunities to socialize with friends.
Just over a third of respondents (37%) say they like to explore the venue at events, meaning brands have to be more creative with how they get their message in front of fans' faces.
Photo by Yvette deWit, courtesy of Unsplash