Adidas inks multi-year deal with Kadri
It's the first major apparel sponsorship deal for the Southern Ontario native.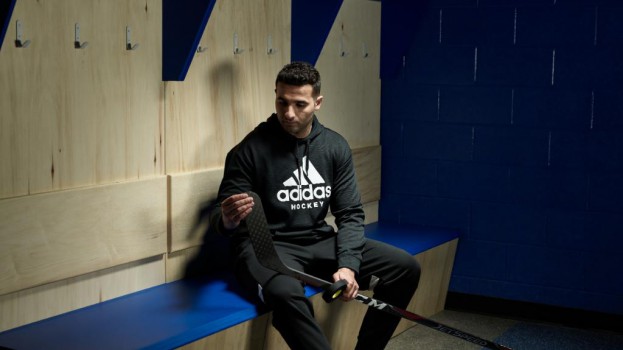 Athletic apparel giant Adidas has signed a multi-year partnership with Toronto Maple Leafs centre Nazem Kadri.
The deal will see Kadri not only appear in Adidas print, digital and social marketing campaigns but also become a part of Adidas' experiential and in-person strategies, appearing at various community events and sponsored by Adidas.
Kadri, who hails from Southwestern Ontario, will play a big part in both Adidas Canada and Adidas Hockey's social strategy, and will be featured prominently in its #TeamAdidas positioning.
It's a similar sponsorship deal to the one inked with former Montreal Canadiens player – and Toronto native – P.K. Subban in 2017.
While Kadri is not as active in the sponsorship space as superstar Subban (who has appeared in campaigns for brands including Air Canada, Scotiabank, Samsung and Canadian Tire), last year Kadri also signed on as a brand ambassador for Paramount Fine Foods. Adidas, however, is the first major apparel sponsorship for Kadri.
Both deals represent a deepening of Adidas' hockey strategy in Canada; last fall, Adidas Canada signed a multi-year sponsorship agreement with Leafs parent company, MLSE, to become the official footwear and apparel sponsor of the Leafs (as well as two other MLSE sports franchises, the Toronto Raptors and Toronto FC). In 2017, it set up a long-term space in the Scotiabank Arena (formerly Air Canada Centre) dubbed the "Creators Lounge," which it uses to showcase new apparel and developments.
The Creators Lounge, which was initially part of Adidas' partnership with the Toronto Raptors and is slated to stay open until at least 2020, was always intended to go beyond the realm of basketball, according to Adidas Canada marketing VP Stewart Smith. It also marked the beginning of a more creator- and influencer-centered approach for Adidas Canada, through which it aimed to tap Toronto-based digital creators and influencers to create content for the brand. Kadri has now officially become one of those creators.
Adidas has worked with MediaCom on buying, both globally and in Canada, since last summer.