Family Channel takes a roadtrip
The Astral Media-owned channel promotes the new Phineas and Ferb movie with a cross-country car tour and online contest.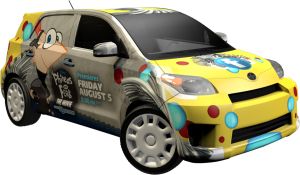 The Astral Media-owned Family Channel will roll out a four-province tour across Canada from July 21 to Aug. 5 to promote Phineas and Ferb: Across the 2nd Dimension.
The experiential excursion was designed with the explorative nature of the movie in mind, meant to drive awareness and excitement for its debut on Family Channel (Aug. 5) and Disney XD (Aug. 20), Peter Furnish, VP marketing, Astral tells MiC.
The summer tour will be led by five Family Channel and Phineas and Ferb branded Toyota Scion cars making stops in British Columbia, Alberta, Atlantic Canada and Ontario. Promoters will hand out free double-sided movie posters containing a secret code. Consumers are then directed to the Family Channel website where they can enter the code to win prizes, including Ultra HD Flip Cams.
With media executed by Toronto-based TrojanOne and creative done internally, the campaign includes special behind-the-scenes advertisements in Cineplex Cinemas and on Family.ca, YouTube and Facebook. The experiential tour will be the central promotional effort, providing viewers with a sneak peak into what they can expect to see in the movie, says Furnish.
"Family Channel believes the best way to connect to something is by experiencing it first-hand," he says. "Through the car tour and our online initiatives, we [aim] to reach out to viewers across Canada."
And Furnish adds that the interactive nature of the tour will appeal to "kids, teens, their parents and all those platypus lovers out there as well."
"One of the best things about the popularity of the Phineas and Ferb franchise has been the breadth of the audience. For this campaign, we will be connecting with kids and adults of all ages, which is why we've added social media and experiential layers to our traditional marketing campaign," he says.