LG powers up with a scavenger hunt
The electronics company launches a series of new phones with a multi-platform real-world and online game.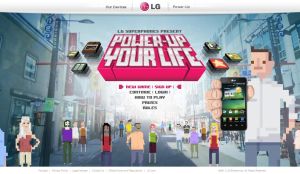 LG has delved into the summer months with a scavenger hunt campaign sure to keep everyone busy. The company's "Power Up" campaign officially begins today, supporting the launch of its new line of  superphones.
The campaign, created in retro gaming style by Toronto-based agency Henderson Bas Kohn, is centered around a summer-long contest, which began in June and ends Sept. 12, where entrants sign up online and are given a list of "power-ups" that are hidden scavenger-style both in the real world and online.
The power-ups are described as badges that link back to the campaign microsite, via link or QR code, and can be cashed in when the user logs in to his or her particular account.
Contestants must find as many of the 140 power-ups as possible to get a chance to win one of the weekly prizes of a new LG phone, or the grand prize, an LG package consisting of a 3D TV, Blu-ray sound bar and phone.
Raj Patel, LG Canada digital brand manager, tells MiC that the campaign was created to draw in the company's 18- to 34-year-old target.
"The campaign meshes very well with our target demographic because retro gaming is very trendy right now, even with girls, and we really needed something that was totally different from what we've ever done before," he says.
Along with the microsite, LG has bought targeted key words with Google Adwords, organized wild postings in many Canadian downtown centers and worked with Toronto-based Accelerator to buy banner ads and takeovers on MSN, Yahoo and YouTube, as well as transit shelter locations.