Government tops the charts in Toronto and Montreal: Media Monitors, July 18 to 24, 2011
Ontario Tourism took the runner-up spot in Toronto's radio ad buy charts, while AlarmForce was #2 in Montreal.
The Canadian government retained its top ranking in the July 18 to 24 edition of Media Monitor's radio ad buy charts, purchasing 654 spots. Ontario Tourism came in at #2 in a move up from #4, while previous #2 Sleep Country Canada dropped to #6. The Home Depot ranked #3 for the second week in a row. New to the Toronto charts are Nissan at #5 and wine purveyor Santa Margherita at #7, while the greatest shift is the LCBO's rise from #40 to #8.
In Montreal, the government also topped the charts with a buy of 198 spots, up from #3. AlarmForce came in at #2 in a big shift from #28, and bumped previous #2 Volkswagen to #3. New to the Montreal rankings are The Home Depot at #4 and insurance company Belair Direct at #9.
Toronto
By category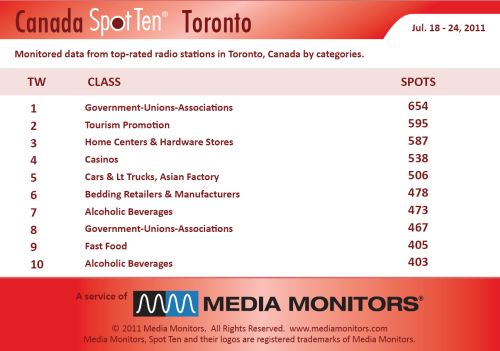 By brand
Montreal
By category
By brand