Fall TV: Premiere week kicks off
Two and a Half Men earns a boffo five million viewers for its Sheen-less return on CTV.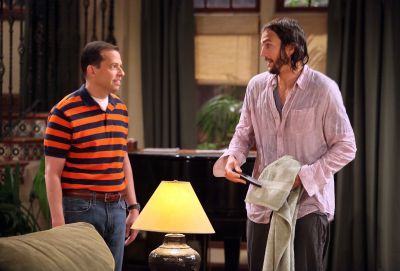 No surprise here: CTV easily took the ratings championship Monday night with the season premiere of Two and a Half Men, earning a whopping 5 million viewers (2+) nationally.
The sitcom's return was one of the most anticipated of the fall season, with Ashton Kutcher taking over the lead role from Charlie Sheen. The show earned 28 million viewers stateside, and according to CTV, was the most-watched regular series broadcast on Canadian TV in six years. (It was not a totally Sheen-less night though: Comedy aired The Comedy Network's Roast of Charlie Sheen to 1.32 million viewers, making it the most-watched program ever on the specialty.)
Monday night was a big one for new-show debuts, as the unofficial "Premiere Week" for fall kicked off. CTV also premiered its new half-hour comedy Whitney at 9:30 p.m. to the tune of 2 million viewers and over on CTV Two, the premiere of Dancing with the Stars (8 p.m. to 10 p.m.) earned 1.4 million viewers.
Citytv also unveiled two of its new acquisitions: 2 Broke Girls at 9:30 with 964,000 viewers (2+, nationally), which Rogers Media says is its highest-rated comedy debut ever. Citytv also premiered The Playboy Club at 10 p.m. with 485,000 viewers.
Returning and ongoing series also benefitted from premiere week buzz, with the 8 p.m. timeslot seeing Flashpoint earn 1.5 million viewers on CTV, NCIS's season premiere earning 1.4 million viewers on Global and How I Met Your Mother's double shot at 8 and 8:30 p.m. earn 950,000 and 1 million viewers (nationally) respectively.
Finally, 10 p.m. saw the return of Castle on CTV with 2 million viewers, up against Global's premiere of Hawaii Five-O, which earned 1.9 million viewers according to CTV's statement.