Scotiabank brings out its creative side
During Nuit Blanche the bank reversed the roles of spectator and artist with its sponsor installation.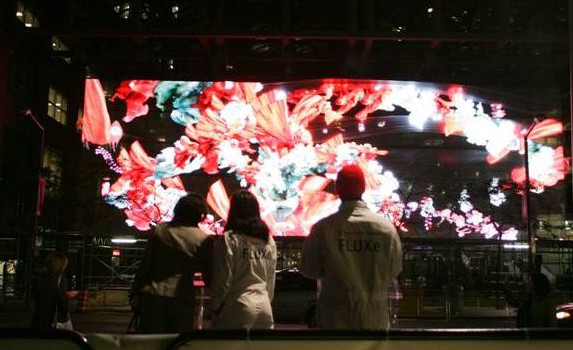 Scotiabank activated its sponsorship of Nuit Blanche in a larger-than-life way this year with a 100 x 33 foot LED screen that dominated Scotia Plaza and acted as a digital canvas for festival spectators.
The bank put virtual paintbrushes in the hands of Torontonians over the weekend, asking them to use their fingertips to create works of art with its installation, FLUXe. Visitors were given a Blackberry Playbook Tablet to create their vision, projected from small to big screen.
Capital C is responsible for coming up with the concept and the final product was created by co-founder of Pixel, Steve Di Lorenzo.
Scotiabank decided to be more involved in the festival than in previous years, tying in its "You're richer than you think" brand positioning, Jim Tobin, director and head of sponsorships, Scotiabank, tells MiC.
"We are able to deliver a 'richer than you think' experience across a number of events that we sponsor and Nuit Blanche is one of those," he adds. "We want to ensure that Scotia Plaza, our headquarters, is a place of interest during the event. We don't want it to be dark; we want it to be engaged."
The benefit of having a presence at Nuit Blanche, he says, is being able to reach a variety of festival-goers.
"The demographic shifts as the evening goes on," says Tobin. "It's not just serious contemporary art fans or supporters, but also the general public who come out to be engaged."
"We are trying to develop an activation that is an artistic installation in itself," he says. "We are a huge supporter of the arts and we wanted to…not only engage the public, but really show that we understand what Nuit Blanche is all about."
On top of providing consumers with an interactive installation, Scotiabank is also donating $1 for every person who "likes" its Facebook page to the Arts for Children and Youth organization until the end of the year.
All of the art that was created using the installation was uploaded to Facebook for consumers to share.