Family.ca streams Radio Disney
Astral-owned Family Channel has launched Radio Disney on its website and is offering sponsorship and advertising opps.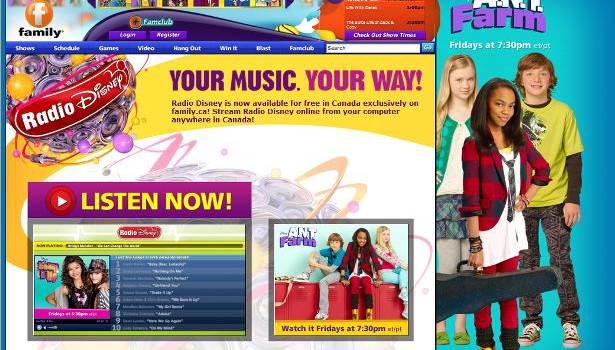 Astral is further extending its relationship with Disney, launching Radio Disney on its Family Channel website.
Delivering music and programs to children and teenagers under the age of 16, the California-based radio station can now be streamed on Family.ca for free.
The Canadian launch comes on the tail of Radio Disney's 15-year anniversary and is a move that Family Channel believes will help provide its audience with desired content on a variety of platforms, Peter Furnish, VP marketing, Astral Television Networks, tells MiC.
"We've seen by the popularity of music videos on Family Channel and Family.ca," says Furnish. "that music is clearly very important to our audience and Radio Disney…is an ideal way to bring even more of what our audience is looking for to the Family brand."
Brands are being offered sponsorship titles that include on-television and digital exposure, he says.
"Sponsors will be included in the Radio Disney promotional TV spot that will run on Family and drive to Radio Disney on Family.ca," adds Furnish. "Sponsors will also be included in the splash page and can take advantage of dedicated advertising space on the page."