Vancouver Sun launches Chinese-language website
RBC and local real estate developers have sponsored the launch of Taiyangbao.ca.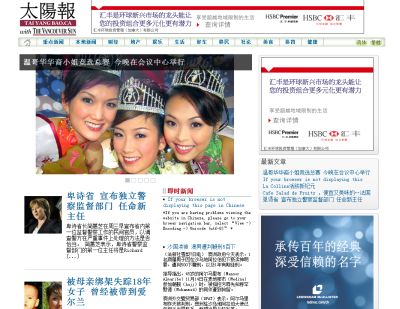 Roughly 115,000 people in Vancouver say that their mother tongue is Chinese and 32,000 of the community claim to be readers of the Vancouver Sun, Paul Bucci, deputy managing editor, digital, Vancouver Sun, tells MiC.
In an effort to serve one of the fastest-growing demographics in Western Canada, the Postmedia-owned print and online publication has launched a Chinese-language news website, Taiyangbao.ca, which can be loosely translated as "Sun newspaper."
"From our research, it is a very well-informed and aggressive news-reading community," says Bucci. "One in two members of the Chinese community will read a news website every  day."
The site is targeted at readers aged 18 to 34, with an average household income of around $74,000, says Bucci, and will provide breaking news as well as features on health, sports, lifestyle, entertainment, business, immigration and more.
For the launch, RBC, four Canadian real estate developers and an outlet mall in Seattle (targeting Chinese cross-border bargain hunters) have come on as the first sponsors of the site, says Bucci, adding that more advertising and sponsorship opportunities will be available when site traffic starts to pick up.
With regards to promoting the site, Bucci says that the Vancouver Sun will place bilingual print ads in its newspaper and online as well as in community paper Richmond News.
There will also be heavy social media outreach, he says. A new Facebook and Twitter page has been launched for the Chinese-language site, as well as pages on leading social networking platforms in China – Renren, Sinaweibo and Boke.
Bucci notes that the immigration section, with posts taken from a Canadian lawyer's blog and translated into Chinese, will be a big attraction for visitors to the site, providing in-depth information for those looking to immigrate to Canada or to keep abreast on immigration issues, he adds.