Spotted! Canadian Tire makes the spirit light
The retailer has built a Christmas tree lit by social media holiday messages in Toronto.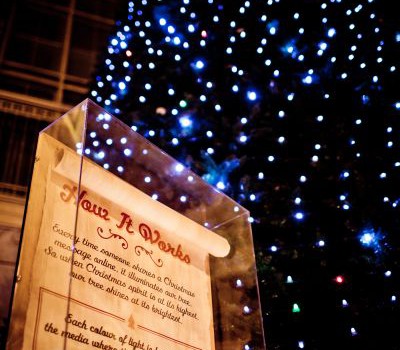 Canadian Tire hopes to brighten the lives of travellers passing through Toronto's Union Station this holiday season with a Christmas tree illuminated by holiday wishes pulled from social networks.
With media by MediaCom Canada and creative by Tribal DDB, the tree lights up when people use holiday key words like Christmas, snowflake or Santa on Facebook, Twitter, blogs or Christmasspirittree.ca, Rosie Riolino-Serpa, assistant VP, digital and gift card, at Canadian Tire tells MiC. The keywords are tracked using social media monitoring platform Sysomos.
"The agency and I wanted to bring back the joy of Christmas," she says. "We thought, what makes people happy? Then we thought of the idea of a large tree and how we could bring Canadians together to light it."
The tree lights up with different colours depending on the social network that receives the holiday greeting. A spiral of sparkling blue lights and flashing strobe lights represents messages from Christmasspirittree.ca or received via texting "Christmas" to 70734 and white lights are for messages shared through Twitter or Facebook. Red lights represent messages from blogs or forums and green lights are mentions in the news media.
The brightness of the lights represents the total number of per-minute messages being shared across the country, according to a release.
The Canadian Tire Christmas Spirit Tree will be at Union Station until Dec. 26. The tree can also be seen on screens at Yonge-Dundas Square in Toronto.