Nissan Canada opens its virtual doors
The auto brand has created a YouTube showroom to entice consumers to further research its cars.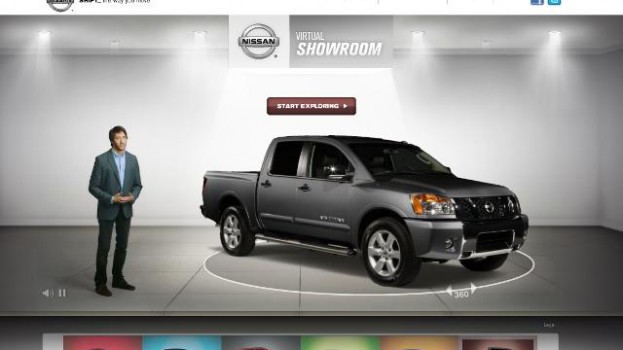 In an effort to reach consumers that take part in pre-purchase online research, Nissan Canada set up what it calls a "virtual showroom."
The YouTube-housed sales area, which was created by Nissan's agency of record TBWA Canada, opened its virtual doors early January and is equipped with a jovial salesman, soothing elevator music, six Nissan vehicles and 76 accompanying video reviews. When the user enters the page, they are confronted by a Nissan salesman who encourages them to check out the different car colours, angles and detailed video reviews. The showroom can also be accessed via mobile platforms and Facebook.
The brand hopes that the initiative will persuade prospective buyers to take the next step and visit an actual showroom where they can test drive their cars, Allen Oke, creative director, TBWA Canada tells MiC.
"People do a lot of research before they go into a showroom and this is just another more interesting, social way to get them thinking more about the car," says Oke.
"We thought it would be pretty great to use this as a sales tool and get into a little more detail about the six cars and each of their innovations," he adds. "[The showroom] makes it a personable and entertaining way of bringing across the essence of each of the vehicles we have."
Nissan Canada has used YouTube in the past, says Oke, noting that (almost a year ago) the brand released a short film clip of a one-tenth scale Nissan Sentra racing through the streets while being chased by an equally scaled down helicopter. That video has received just under a million views.
"Not a lot of car brands are playing on YouTube as much as we are right now. It's such a good place [for consumers] to learn about cars and it's good for us to be there first with this kind of [initiative]," he says. "The showroom is an innovative way to market the cars and I think that every time a brand shows that it's being innovative with new types of media, it has a halo effect of saying something about Nissan itself."
Oke also praises the ability of being able to tap into a youth audience on YouTube and adds that many auto brands struggle to reach the younger demographic because of the tendency for youth to be online more than behind a TV or magazine/newspaper.
"Any time that you can talk to them in a place that they are already playing around in makes things better for [the brand]," he says.
In the coming months, Nissan plans to place ads online with media by OMD Canada, but in the meantime they have placed QR codes, which direct consumers to the virtual showroom, outside actual showrooms, says Oke, adding that their online salesman can offer assistance even during hours when physical showrooms are closed.