Sears maintains its top spot on the radio chart: Media Monitors, Jan. 9 to 15
For the third consecutive week, the retailer made the largest radio airtime purchase in both Toronto and Montreal.
Sears Canada is again sitting in the top spot on the Media Monitors radio chart in both Toronto and Montreal, according to the ad tracking service's latest report for the week of Jan. 9 to 15.
Next in line in Toronto, the Heart & Stroke Lottery moved up three spots to #2 from the previous week's #5 position, with the LCBO is new to the list at #3.
Other new entrants include Epson at #7 and Rogers Bundle at #10. Sunwing Vacations made a significantly larger purchase for the week, taking it from #30 to #5. Subway and Transat Holidays also moved up a number of notches, with the QSR jumping to #6 (up from #36) and the travel and vacations company to #8 (up from #52).
In Montreal, AlarmForce continued to sit in the #2 spot – as it did the previous week – and Brault & Martineau followed suit with its third biggest purchase for the second week in a row.
Bell High Speed Internet entered the top ten list at #4, as did Ford Lincoln at #8 and Reno-Depot at #10. TSN saw a big radio spend with the sports channel moving to the #6 spot, up from the previous week's #67. Additionally, Loto-Quebec jumped from the #26 spot to #7.
Toronto
By brand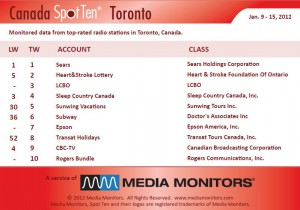 By category
Montreal
By brand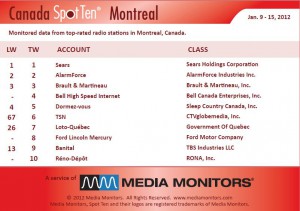 By category