WestJet targets business travellers
The airline launches a national campaign that details what makes it stand out from others in the market.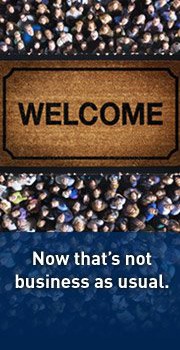 WestJet has rolled out the welcome mat for the launch of a campaign that's not business as usual for the airline.
The premise of the campaign is to welcome business travellers to try out its services, Lauri Feser, VP of marketing, WestJet tells MiC, adding that over the years the brand has made significant investments to create a competitive schedule for business travel, with changes including adding additional flights to cater to travellers between Toronto, Montreal and Ottawa.
In the campaign creative, which was developed by TBWA and placed by Media Experts, a welcome mat is shown (which the airline places at the front door of each of its planes) with the tagline, "An open invitation to travellers: Welcome. Now that's not business as usual."
In some of the ads, there is also an invitational letter that talks about how 80% of its employees own shares of the company, that the airline calls its travellers "guests" and how it provides a rewards program that people can actually understand.
"When we looked at what it is going to take to win in the business market, we knew we had to shake it up and we knew that we had to be a bit bolder and really invite people over to try WestJet for business," says Feser.
In addition to flight sales on its website, the airline is also offering to give their new customers 50 WestJet Reward dollars, which Feser says is the second component of its campaign to get people to try out its services.
Ads will be placed nationally in newspapers and magazines, on radio as well as online, says Feser.