Ikea designs with The Marilyn Denis Show
Six Canadian designers will compete to become a resident expert on the CTV morning show by putting the brand's products to the test.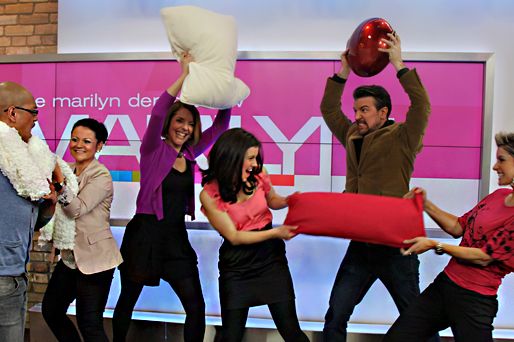 Ikea is gung-ho on making "affordable solutions for better living," and Nan Row, executive producer at CTV, tells MiC that it's this shared sentiment that convinced the Bell Media-owned channel to partner with the brand on what she calls a mini-series within The Marilyn Denis Show.
The five-day contest to find the "next Marilyn design expert" began yesterday morning at 10 a.m., when the show airs on CTV and again at 11 a.m. on CTV Two, and on demand at Marilyn.ca.
Every morning a new design challenge is presented to contestants who were chosen about two weeks ago from video uploads showing their skills on YouTube. The live challenges require the six self-proclaimed design gurus to compete against one another using products from Ikea. One contestant is crowned the winner each day and given the chance to show off their creativity in an in-studio segment with Marilyn. To add an element of drama to the show, two players will be on the chopping block on Wednesday's installment. Viewers are invited to vote online for their favourite contestant, and the winner will be announced this Friday.
"Often our design concepts have a kind of show-and-tell feel, where we will bring in a design vignette and we'll talk about how to do it and basically go through the ABC's of what works and what doesn't," says Row. "But, this is different in the sense that it is a mini-series within our own show. It's a full-on story that is told throughout the [morning], with a bit of drama built in everyday."
Row says that Ikea is a good fit because the brand and the show share a budget-friendly point of view, and also because the series wanted a big name brand to make a splash.
Jungle Media worked with CTV to execute the in-show challenges.