MiC's Global Tour: experiential
Victoria Morris from Mindshare gives her thoughts on executions from Mini in Brazil, Banana Republic in the US and Andes Beer in Argentina.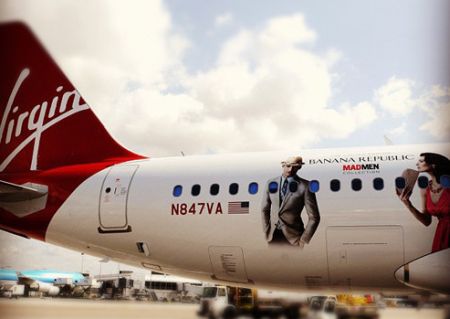 Spring is set to arrive, and as the warm weather starts to filter through, so do the scores of street-level campaigns looking to reach an upbeat crowd. With this in mind, MiC rounded up some of the more inventive experiential executions for the latest edition of our Global Tour (a regular column focusing on innovative international campaigns) in the hopes that they inspire as the season rolls in.
MiC invited Victoria Morris, associate media director, Mindshare, to provide her take on the global campaigns and if she thought they could hold ground in the Canadian market.
US: Banana Republic takes to the jet-walk
There is no stage too small for fashion brand Banana Republic. In a new venture with Virgin America, the brand will be taking to the front deck of Flight 407 from JFK to LAX with a runway show of its latest Mad Men-inspired spring collection. Of course a show without treats would be amiss, so the brand will be handing out popcorn, drinks as well as Banana Republic gift cards, and a new episode of Mad Men also added to the in-flight entertainment.
Morris: Initial thought: To debut a new fashion collection on a plane is a fun idea.
In reality, this probably does much more for the Virgin brand than Banana Republic. Nobody is going out of their way to purchase a Virgin flight just to see the Banana Republic Mad Men collection. However Virgin flyers are likely to view the airline more favourably given that they have taken in-flight entertainment to the next level. This works for Virgin's 'cool factor' and even if not all flyers are a fan of the stunt, it doesn't matter because Virgin already has your money at that point. It doesn't translate into sales for Banana Republic though unless flyers can purchase a pencil skirt to go with that cocktail.
I would rather have seen this done with a fashion brand more in sync with Virgin's image like an H&M or Top Shop.
Click here to read the international story.
Brazil: Mini brings envy to the streets
The Mini Countryman may be petite-sized, but it sure knows how to stand out. As a way to promote the vehicle in Brazil, a city which prohibits street advertising, the brand parked a Countryman in between two non-Mini vehicles. The cars were fashioned with a cardboard box that appeared to be sad and the idea was to show what other cars think of the Mini Countryman with the slogan, "I want to be a Mini."
Morris: This execution was a successful demonstration in problem-solving how to advertise in a city where advertisements are prohibited. I'm not convinced that it goes beyond creating some mild intrigue for passersby though. You walk down the street, see the cars covered in sad face boxes with a Mini wedged in between. Sure, you stop and take a look to see what it's all about, but then what? There doesn't appear to be any further communication on the benefits of the Mini or reason to buy the product.
If the objective was to create general awareness over the Mini brand then mission accomplished, however given that Mini is such an iconic brand, I doubt the objective was awareness. Outside of this, there's very little engagement with this execution. Could this work in the Canadian marketplace? Sure.  But do we really need it? Probably not.
Click here to read the international story.
Argentina: Andes Beer saves from boredom
The ABInBev brand took to being a savior with the "Great Escape" campaign that rescued individuals from social commitments, such as a distant family wedding, business gathering or milestone anniversaries. The campaign began in October of last year when the brand invited consumers to submit details of a dreary event (to which they had no choice but to attend) to the brand's Facebook page. The events and stories were assessed and the rescue team went on a mission to retrieve and return them to a bar where their friends were waiting with an Andes Beer in hand.
Morris: This execution is pure brilliance! It's engaging, hilarious and completely on-point, not only for the beer-drinking target but well beyond. It's relatable, everyone has events that they would rather not be at, so whether you are a beer drinker or not you can appreciate the idea behind the Great Escape. It truly captures multi-platform at its best combining experiential, social media, TV and web. This would not only work well in Canada but anywhere around the globe.
Click here to read the international story.
Photo: Virgin