KFC brings back the Double Down
The bunless sandwich is back with a TV and Facebook campaign that encourages men to "Make Time for Man Time."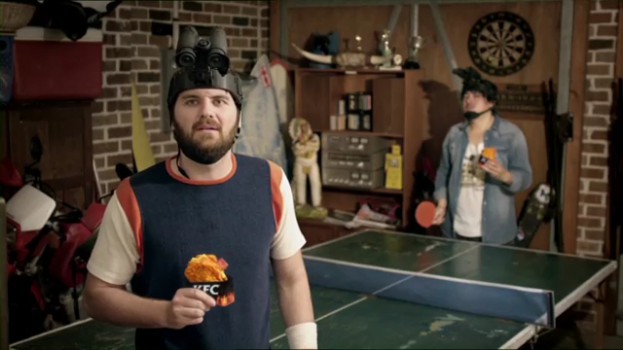 KFC's bunless wonder – now called the Zinger Double Down – is back, and this time with a bit of a spicy twist to its marketing.
The limited edition sandwich arrived at KFC restaurants early this week, along with a TV and Facebook campaign that was planned by MediaCom with original creative by O&M Australia, adapted by Toronto-based Grip Limited.
Canadians first saw the meat-on-meat meal hit counters in October of 2010 with a campaign that invited consumers to take the Double Down challenge. The following year, KFC welcomed the sandwich back, encouraging those who missed it the first time to give it a try.
Now, with the sandwich being a more recognized offering on the QSR's menu, David Vivenes, chief marketing officer, Yum! Restaurants, tells MiC that the brand decided to fine-tune its targeting of males age 18 to 35, with creative that encourages them to "Make time for man time" with a spicier Zinger Double Down.
Vivenes says that while the brand has seen consumers of all ages enjoy the product, it's particularly relevant to young male adults. He goes on to say that in order to reinforce the messaging of "man time," the brand decided to create a Facebook contest with prizes of musical t-shirts, snowball launchers, night vision goggles and KFC gift cards to add to their night with the boys. To further promote the product, standard ads have been placed on Facebook directing users to the page.
The TV spot shows a girlfriend catching her boyfriend in the act of playing ping pong and eating the sandwich with a friend in the basement and will air on channels such as CBC, CTV and OMNI.
Close to two million Double Downs have been sold since its arrival in Canada and the brand has managed to garner over 100,000 fans on its Facebook page, says Vivenes, adding that the product hits consumers on an "emotional and tangible level" leading it to be KFC's most successful limited time-only product in its history.