Social pizza and Twitter coupons: MiC's Global Tour
Eric Vieira from Grip Limited gives his expert opinion on social media campaigns from Domino's, American Express and Mercedes-Benz.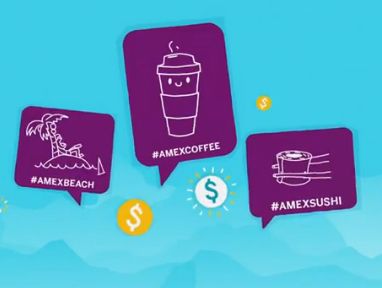 At the heart of all three social media campaigns MiC chose to tantalize readers with this week, sits an element of utility. In each of the executions in the latest edition of our Global Tour, brands aimed to provide a social experience that consumers could get some practical use out of.
This week we spoke with Eric Vieira, director of business, Grip Limited, to get his take on the Twitter and Facebook campaigns that came out of big name brands in the US, Australia and Germany.
US: American Express takes your tweets to the bank
If you've ever tried to extreme coupon your way to savings on bills, then you've probably found out that it's more difficult than one would hope.
American Express, in an astute response to the hassles of couponing, created and launched "Sync. Tweet. Save." The exclusive social media promotion encourages customers to "sync" their cards to their Twitter account and retweet the special offer hashtags that are originally sent out by the credit card company. By tweeting the customized tag, the offer is automatically uploaded onto their card, allowing them to redeem the discount when making a purchase at the corresponding store.
Vieira: Lots of love for this campaign. American Express has been hitting all the right keys in the social realm and here's another example for us to admire. They've executed several successful initiatives that fall within their social currency platform and, more importantly, haven't abandoned any of them (Facebook, Foursquare and now Twitter).
It's a prime example of a focused insight carried through to a rich, engaging platform.  One would assume that most, if not all, of the discount or coupon is being picked up by the partnering brands, leaving American Express with a healthy ROI on their earned media. The co-branded hashtag provides a social outreach to all parties involved, giving a trifecta of social reward.
Organically getting a brand mention, with users who arguably have significant influence, is definitely some prime real estate – a CPM value that would far exceed your typical targeted awareness buy (I'd love to get my hands on the results or analytics). The only thing I hate about this campaign is that we didn't think of it first!  This is a great initiative that drives users into an owned property for proper data consolidation. For an account that's less than three years old, with nearly 350,000 followers, someone's doing something right.
Click here for the international story.
Australia: Domino's crowdsources its ingredients
With social media and the internet often blamed for a slump in face-to-face interaction, it's no surprise that digitally ambitious brands are looking to connect and engage in the space. Domino's decided to bring its Facebook community together to do what it does best – make pizza. Not your average cheese and crust pizza, but rather "the world's first social pizza."
The brand used crowdsourcing to research and develop a menu item by asking Facebook fans to choose and vote for their favourite crust, sauce and toppings. The most popular ingredients were selected and added to the pizza each day for one week. Australian users could then submit a name suggestion for the pizza for the chance to win a cash prize.
Vieira: The Facebook community seems to have taken well to the promotion, providing significant affinity scores for the brand's social equity.  Affinity is calculated through Facebook's algorithm, helping to qualify a brand post as worthy of being seen in a user's newsfeed. Each of their posts is getting significant engagement, while driving people back to their community to interact or vote. This provides an opportunity for impressions to be delivered within main and frictionless newsfeeds. It's a simple formula that is often overlooked.
Considering the level of consistent engagement within this community, it would lead you to wonder why they would have condensed this within such a short period of time (seven days for voting). Allowing the campaign to breathe a little would have provided the brand with greater earned impressions through extended social context.
All and all, it's a fun crowdsourcing execution that delivers on the social promise of giving the consumer a voice. I'd love to see a percentage of sales come back to the community in some way – be it a donation to a charity, or profit sharing through social currency or loyalty incentives, something that keeps the momentum going after the name is awarded.
Click here for the international story.
Germany: Mercedes tweets empty parking spaces
During last year's Christmas season, reports came in of more and more consumers looking online to purchase gifts in an effort to evade the mall rushes. Knowing that locating a parking space during the busiest shopping time of the year can prove to be difficult (if not impossible), Mercedes-Benz launched the "Tweet Fleet."
Inside a fleet of Mercedes vehicles, a tiny device was placed that automatically generated a tweet with GPS data for every empty parking space the car passes. Twitter users could then be navigated to where the empty space was located.
Vieira: There's nothing social about this aside from the use of Twitter and Google Maps. Mercedes has had some great social and experiential success over the past year, but unfortunately this isn't one of them.
The basic premise of the value they're trying to deliver is totally flawed. Think about when you're preying on that parking spot during the holiday season. You're literally following the person as they walk to their car to ensure you're first in line. Now, imagine getting a tweet that tells you one is available two blocks away (after the two-plus minutes it took you actually load and consume the map info). Guessing you're SOL considering the car behind the Mercedes probably took it. All they're doing is polluting Twitter with useless content, while polluting the earth in order to generate it.
I'll leave this one with a final thought that I feel you'll all agree with: As marketers, we should never recommend that people text/tweet/post or do anything on their mobile while driving [is dangerous].
Click here for the international story.