Postmedia introduces Launch Pad
The new advertising program allows clients, like Hyundai, to execute a takeover of the media co's assets for one day.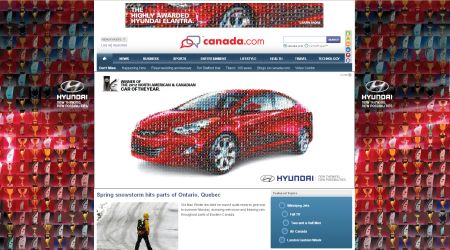 Postmedia is introducing its new Launch Pad advertising program today, which allows a single client to execute a front-page takeover of the media co's entire fleet of print, digital and mobile assets.
Starting with Hyundai today (and tomorrow in Alberta due to the election results running today), Simon Jennings, chief digital and revenue officer, Postmedia Network, tells MiC it will be offered once a month to different clients, adding it launched with the car co because it was looking to make an impact.
"Launch Pad is filed neatly under the category of changing the way people think about Postmedia, or advertising with us," he says. "It was apparent to me early on that we have great engagement and platforms, why aren't we offering that all at once? Road blocking the country. The sales team jumped on it and it turns out advertisers love the idea."
The advertising opportunity includes every piece of Postmedia's network, including the front pages of papers like The National Post and Ottawa Citizen, as well as its iPad and web properties, such as Canada.com and Dose.ca.
"It will be impossible to be a Canadian out and about today and not know about Hyundai," he says. "I think that is pretty impactful."