McDonald's comes to life
The QSR has placed ads featuring a three-dimensional mould of its new Real Fruit Smoothie in Quebec Sports Experts stores.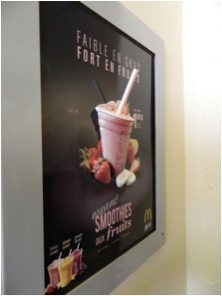 To introduce its Real Fruit Smoothies to the Quebec market, McDonald's has placed three-dimensional ads behind the fitting room doors in Sports Experts stores.
Agency OMD placed the ads in Zoom Media's Fashion Frame network, with creative from Cossette.
Martyne Rioux, VP, marketing, Fashion Frame, tells MiC that classic boards featuring the new menu offering were placed in fashion retailers, Urban Planet and Sirens, in the French market. But only ads featuring a protruding mould of a Real Fruit Smoothie were placed in the sports retailer.
She says that the brand maximized its presence with a heavier dose of creative in the Sports Expert stores due to the campaign's target audience of active and health-conscious consumers, and because of the high visibility with the large fitting rooms situated in the front of the store.
McDonald's has also promoted the drinks with a mass campaign that spans TV, OOH, digital and radio over the past month with the hopes of gaining a greater share of the Canadian beverage market.