Spotted! Smart Canada's big plans for a better city
The auto brand has launched its Smart City Project campaign with an installation in Toronto which turns physical input into power.
Since mid-April, Smart Canada has been asking Canadians, with a focus on those between the ages of 25 and 54, to start thinking about how to make each of the cities a better and more efficient place to live.
Using wild postings and transit advertising placed by OMD, with creative by BBDO, in high-traffic pedestrian areas in Toronto and Vancouver, the brand asked that consumers submit their ideas to Smartcityproject.ca and that they "challenge the status quo, the way that Smart did when it first launched," Michael Minielly, public relations supervisor, Mercedes-Benz Canada, tells MiC.
Today, the "Smart City Project" has made a grand official opening in Toronto with the construction of an eco-friendly installation in an unassuming alleyway.  The site has been marked with graffiti murals and a wall featuring bicycle parts (such as wheels and chains) that convert physical input into power. When a person spins a wheel, the alleyway is given a charge of power that is then used to light up the alley or even charge a mobile device.
While the installation is the brainchild of the brand itself, there are plans to turn consumer-generated ideas into full-scale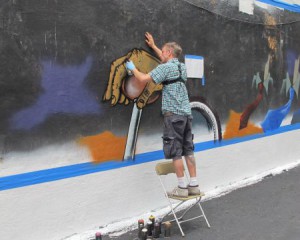 projects, says Minielly, adding that this is the first of many projects the brand plans to fund, but wouldn't comment on how many and when the next project will hit city streets.
The campaign will also see projects crop up anywhere in the country, he says, noting that they will consist of both small and large initiatives that help to contribute to efficient city living.
"[Smart] is an urban vehicle, versatile, nimble handling, easy to park, it makes city life a lot easier for people to drive one and it fits perfectly with the idea," he says. "It's in line with the essence of the Smart brand."