MuchMusic gives out social rewards
The channel has posted results from the first month of its MuchCloser program that rewards viewers for visiting its site.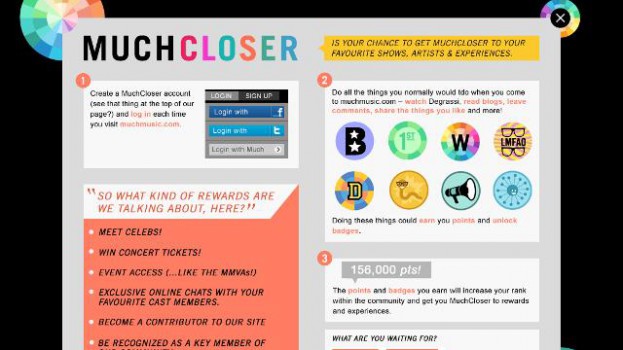 MuchMusic is now rewarding viewers for simply perusing its website.
Whether by watching its videos, reading its blog postings, leaving comments or sharing content, visitors are being gifted with virtual points that earn badges which can then be used to unlock rewards.
The point is to raise their ranking in the MuchMusic community and in turn, gain access to exclusive prizes and content.
Rewards can include concert tickets and online chats with cast members of MuchMusic shows.
Since the "MuchCloser" social rewards program launched in early May, the channel has seen 23,000 people sign up and create accounts. More than one in three users will return daily, according to a Bell Media release. What's more, the channel has tracked 325,000 activities, with the actions from registered users increasing by an average of 59% from week to week, according to the release.
MuchMusic will also use the program to further promote the upcoming 12th season of Degrassi, with badges being given to users for watching clips, as well as reading and sharing posts about the show.
The novel rewards program arrives at a time when MuchMusic tends to make some noise, with the channel celebrating its 2012 MuchMusic Awards ceremony on Sunday, June 17 at 9 p.m. Sponsors of the music event include Coca-Cola Canada, P&G, BlackBerry, Subway, Virgin Mobile Canada and H&M.