Spotted! Ottawa rickshaws get makeovers
Travel Alberta is bringing rickshaws dressed in dinosaur, golf, fishing and rodeo gear to to the streets of Ottawa's Byward Market.
Rickshaws just aren't what they used to be. The manhandled carriers that were once only used for transport are progressively becoming mobile advertising fixtures. Travel Alberta has stepped it up a notch, shying away from brand insignia and instead replacing parts of the vehicle with dinosaur bones and giant-sized golf balls.
Making their way through the Byward Market in Ottawa, the transformed rickshaws are meant to show the province's varying summer activities. Golfing, fly-fishing, dinosaur parks and cowboy rodeos are the four different experiences that the Ontario city residents could include in their Alberta itinerary, Shelley Grollmuss, executive director of marketing, Travel Alberta, tells MiC.
"Our research shows that there are a lot of like-minded travellers in Ottawa similar to those in Alberta," she says. "And there is both interest and high propensity for them to travel to [the province]…they share the same passion for the outdoors."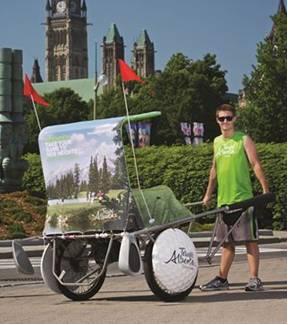 That being said, the target audience is the free-spirited, active and outdoorsy type, she says, adding that they chose the Ottawa market as it's a place where locals tend to bring their friends and it brings in crowds during the summer.
Travel Alberta is no stranger to alternative methods of advertising. In the past, for its wintertime campaigns, the brand wrapped elevators to transform them into ski mountain gondolas as well as organized a giant outdoor snowball fight. But this is a new and different opportunity for the brand, as it has never really invested in summer promotions, says Grollmuss.
In addition to the rickshaws, the tourism co has also placed traditional ads in British Columbia, Alberta, Saskatchewan and Ottawa, created and planned by Venture Communications (the agency also responsible for the rickshaw execution).