Flying tacos and Good Samaritans: MiC's Global Tour
This week's tour includes feel-good campaigns with a dash of personalization from Alaska and Australia, with Meri Ward at MPG weighing in on the executions.
For this week's tour, MiC put together a mixed bag of heartwarming campaigns that use personalization (whether that be a person's name, their photographic image or hometown), executed in either the experiential or digital playing field.
We spoke with Meri Ward, media account director, MPG Canada to get her take on the featured brands that put good deeds in the spotlight and if they hit the nail on the head when it came down to messaging.
Alaska: Taco Bell turns an elaborate hoax into a reality
The person who pulled a practical joke on the small town of Bethel, Alaska, posting promotional signs with the claim that Taco Bell was to set up shop, was probably surprised when the brand took it so seriously.  While the residents didn't get traditional brick-and-mortar stores, they got the very next best thing instead – a Taco Bell food truck flown over by a helicopter and containing 10,000 free Doritos Locos Tacos.
Ward: Interesting. I think Taco Bell swooped in and managed the situation very well.  They gave the town what they wanted in an epic manner by airlifting a truck full of tacos.  I think this was a smart move on Doritos part as well, although I am not certain of who asked who on this one.
Imagine watching that drop! These types of stunts have given the brand incredible earned media and will leave a positive brand association in the minds of the people in Bethel. Who knows, they might just be racking up the air miles to fly to the nearest location a little more often because of it. I'm curious to know if they will in fact open up a Taco Bell in Bethel.  Well done.

Click here to read the international story.
Australia: NAB takes notice of do-gooders
Most of us have had the opportunity to be a Good Samaritan. Some take the opportunity, and some don't. Australian bank NAB decided it was time to put a focus on those who do good by placing a lost object, like a pair of sunglasses, on the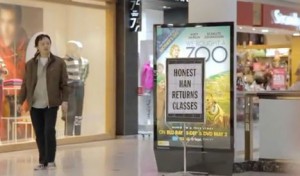 ground outside a mall and then secretly photographing those who returned them to the lost-and-found counter.  Immediately following the item being returned, the bank placed the person's image on cakes and digital boards around the mall with copy that read, "Is this the new face of honesty?" and "Honest Marina returns glasses" on printed posters.
Ward: This is a classic feel-good experiment from an unexpected industry – financial. People do good deeds for all sorts of reasons and most often it is not recognized.  Have you ever passed your parking pass on to someone if it still had time on it instead of them having to put money into the machine? I have. This makes me feel good for many reasons, as did this experiment for those who were honest or rather simply being themselves. I would like to know if this campaign had any traction, any website traffic or increase in signup for credit cards.   Overall, this is a unique approach.
Click here to read the international story.
Australia: Earphone Bully gets inside the heads of youth to teach
Bullying has become a major topic of concern all over the world, with reports of serious repercussions that have come as a result youth being victimized. Earphone Bully is a public interest campaign that used 3D sound to put a bully inside the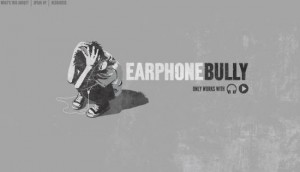 head of those who listen to a recording of a person being bullied. The idea is to "create a powerful role-play tool to prepare kids for schoolyard bullies" and can be customized to include a person's name when passed on through e-mail – the Earphone Bully site knows over 500 names that can be used in the recording.
Ward: This is a good example of knowing your audience and how they consume media.  The insight is great – bullies have the ability to get inside the heads of their victims and "Earphone Bully" has recognized this and approached their solution in the same manner.  This is a smart angle on a tough topic faced by many on a daily basis. It's not simply an ad campaign; this has provided a much needed service.  I am happy to learn that some key organizations are using this as a resource.  I think it has captured the attention of both the bullies and their victims and will shed some light on the harsh realities of dealing with this situation, but also offering some ways to help – nicely done.
Click here to read the international story.