Discovery Channel syncs TV with mobile
In partnership with Media Experts, the channel has launched tech that connects its app to TV, and will be working with Virgin Mobile and Bell Mobility for the pilot phase.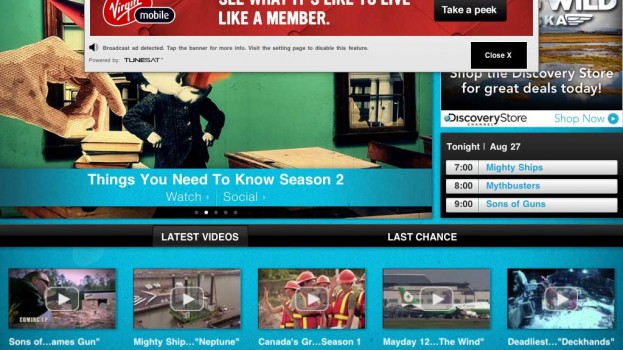 In partnership with Media Experts, the Discovery Channel is now synchronizing ads from Virgin Mobile and Bell Mobility between television and mobile screens.
The channel recently launched audio fingerprinting technology in its Discovery Channel App, when being used by the viewer while watching the channel,  picks up the sound from the advertisers' 30-second ads that play in the background. The application then opens up a rich media ad unit while the user is interacting with the Discovery content on their mobile device.
"We're all really excited about it [because] it's a true connected experience between screens," Nancy McConnell, VP digital sales, Bell Media, tells MiC.
"The ability to connect a response that's triggered by a broadcast commercial, either to look for more information, to explore a product or service further or find a location that leads to a transaction, is very powerful," she adds.
McConnell notes that the Discovery Channel is working with Bell Mobility and Virgin Mobility exclusively for now while they test the product. "This is a very new product," she says. "So we're testing, monitoring results and we're going to take learnings from this and refine it as we go."