Couch critics: Anger Management, The New Normal and Guys with Kids
Industry members review the new fall comedies, and place their bets on which shows will survive.
Don't cry over lost sunshine, the coming official end of summer means it's time to trade those sunglasses for a TV remote with the launch of the new slate of fall programming. MiC has asked a few TV-mad contributors to give us a rundown of the new shows, and place their bets on which will have staying power.
Reviewing CTV's Anger Management, The New Normal and Global's Guys with Kids is the team at Denneboom: VP of marketing and media Leslie Krueger, media analyst Kayla Landen and VP and senior media advisor Lauralea Mast, also Max Valiquette managing director, strategy at Bensimon Byrne and Katie Bailey, Toronto-based editor and writer, and former MiC managing editor.
Anger Management (Tuesday at 9 p.m., CTV):
Bailey: What's with all the Archie Bunker knock-offs? Did I miss something? Starring Charlie Sheen in his much-touted "comeback role," Anger Management follows an ex-pro-ball player with anger issues turned anger therapist. The series opens with a group therapy session, not minutes into which a crabby old man starts telling 'Nam stories and taking angry-gay jabs at another (angry, gay) member of the group. This was followed by a Snooki knock-off knocking out quips that even Ms. Polizzi would be embarrassed of, such as: "You're in my bubble, ass clown." I thought the characters were predicable and boring, as were the show's jokes, but neither of those things are predictors of a show's success – I thought the same thing about the Sheen-era Two and a Half Men and everyone loved that show.
My main criticism is that the pilot of this show is a little one-note – by three-quarters of the way through I was already bored of anger therapy. We'll see if the audience sticks around week over week.
Denneboom: Viewers will come to witness the much anticipated return of Charlie Sheen and stay because it is good television. Sheen plays the sarcastic pervert we have seen him play before, but this Charlie seems a little more evolved and a lot more likeable. The writing is solid and the supporting cast of characters, including the eclectic group of patients in his anger management group, will have us coming back for more.  CTV has put a priority push behind the series and the series launch in the US broke some viewing records.
So, will it survive?  No crystal ball required here – CTV and FX Network in the US have already ordered 90 more episodes from Lionsgate.  Anger Management and Charlie Sheen have a locked in place on the schedule for a least two years. Much to the chagrin of those who tuned in hoping for a loser, Sheen really is "winning."
Valiquette: Charlie Sheen's new-ish sitcom, Anger Management, launched in Canada this week after already completing a 10-episode run in the US on the FX Network. It's a much-ballyhooed return to television for Sheen after his heavily publicized you-can't-fire-me-I-quit dance with Two and a Half Men, and it may be the least surprising show in the history of television. Sheen plays, again, a bad boy named Charlie (as if he's unable to remember the name of any other character), this time an anger management therapist. It's only interesting in the way that it reflects his real life, and the showrunners seem to know that: the first episode features jokes about getting fired and "#winning." Hilarious stuff, if it's two years ago and you're on Twitter and you're 16.
Odds of survival?: Excellent, if only because the show has already received a 90-episode order.
The New Normal (Tuesday at 9:30 p.m., CTV):
Bailey: You never know what you are going to get with copycat shows. They're occasionally great, often terrible and sometimes simply just 22 minutes of a thing that you wish was the other thing, but the other thing isn't on, so you end up watching that thing.
The New Normal is the latter category but it's teetering on terrible. It's Modern Family mixed with a little Gilmore Girls and remade for 9:30 p.m.
The show follows a gay couple that decides to hire a surrogate mother to carry their child. The surrogate is a newly single mother with an eight or nine-year-old child, who says things like "Mommy, what were your dreams before you and daddy accidently had me?" (Yes. Really.)
I wanted to like this show's "bold" approach but everything about this show is too much. The gay men are corny caricatures of gay, Ellen Barkin out-Bunkers Archie in the racism department, and the single mom is too Pollyanna. It lacks the sweetness of Modern Family and the cleverness of Gilmore Girls and all you're left with is jokes about "the man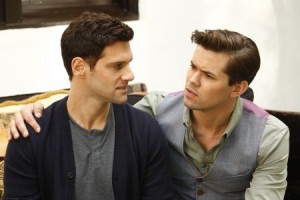 in the lady pants," the inability to return a baby to Barneys and the bizarre and crazy-racist jokes written for Barkin, such as the inexplicable "I feel like I just ate a black and gay stew right before I fell asleep."
Denneboom: Bruce Cockburn wrote "The trouble with normal is it always gets worse." The opposite goes for The New Normal. Controversy aside – yes they are a gay couple trying to have a baby and one NBC affiliate has already refused to air it – this is a smart and funny show that gets better with each episode.
The dialogue is fast and frantic, the characters are over-the-top hilarious (Ellen Barkin, welcome back) and the scenes pass by quickly. But the average audience may not get the cultural references (How many will understand the scenes about Little Edie and Grey Gardens?). And there is no laugh track to cue to the supposed "funny" lines. It may just be too smart for its own good, especially as it follows Charlie Sheen's traditional comedic comeback show, Anger Management. Watch it while you can.
Valiquette: More promising (but no less derivative) is The New Normal, a single-camera sitcom without a laugh track. It's a show that owes as much to Modern Family as anything else: it's the story of two gay men, the surrogate who is bearing their baby, and her grandmother. It might have felt fresher in the pre-Modern Family era, but got better craftsmanship than either of the other two sitcoms. The actors are charming. It's breezy, but with a stronger emotional core. It's also on NBC, where decent ratings are more than enough. Expect it to get a full season pick-up.
Odds of survival?: Up in the air.
Guys with Kids (Tuesday at 9:30 p.m. on Global):
Bailey: I felt a palpable sense of relief when this show started and the first jokes were not racist, homophobic or misogynistic: they were just funny. I actually laughed, inadvertently and out-loud, three times during this show – a record for the first few shows of the season.
Guys with Kids follows three dudes in different states of familyhood/parenthood who all live in the same building. Definite points to this show's writing team for not going straight for the easy laughs: there wasn't a sleepless nights/dirty diapers quip to be had. And actor/Chris Evans-lookalike Zach Cregger is genuinely funny, earning pretty much all the best jokes of the episode. Best joke of the 22 minutes from straight-laced lawyer/single-dad Chris: "Kareem Abdul-Jabbar: dunk my baby!"
Denneboom: With Jimmy Fallon as a producer, Guys with Kids has all the potential for a few guaranteed laughs.
Those who saw the movie What to Expect When You're Expecting may have experienced some deja vu moments watching the pilot of Guys with Kids. The concept of stereotypical dads being overwhelmed with the responsibility of caring for their kids has been done before (and probably would have been really funny in the 1950s).
We see a glimmer of Fallon's comedic genius with Kareem Abdul-Jabbar dating the ex-wife of one of the dads. That said, Fallon's late night humour seemed to be missing from this primetime sitcom. With a few good laughs in the pilot and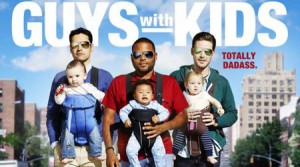 Jimmy Fallon in the credits, viewers may just be intrigued enough to watch the next episode.
Valiquette: Jimmy Fallon's first sitcom as a producer is called Guys with Kids and it's no less subtle than Anger Management – it just pretends to be nicer. The focus here is on three dads – two married, one not – who have, well, kids. The larger joke is that the guys are sort of kids themselves – overwhelmed, juvenile, and constantly trying to put one over on the women in their lives. It's a show that's somehow meant to be tapping into some sort of zeitgeist (you know, men are raising kids) but this was all done 30 years ago (and much more funnily) in the movie Mr. Mom. The jokes are telegraphed and the actors aren't good enough to deliver them any better. It won't be the first casualty of the season, but it probably won't last 'til May, either.
Odds of survival?: Fallon's baby might have staying power.

Related:
Fall TV: Primetime Battlegrounds