Porter Airlines flies to the top: Media Monitors
The airline made the biggest radio buy in Toronto, with CTV doing the same in Montreal for the week of Sept. 3 to 9, 2012.
Porter Airlines made the largest radio purchase in Toronto and soared from #81 into the #1 spot on the Media Monitors report for the week of Sept. 3 to 9.
The Ontario Secondary School Teachers Federation shifted up one spot into #2, and Chevrolet moved from #5 to #3.
Newcomers to the list were State Farm, which made an appearance at #4, and Michael Hill which entered the list at #7.
Sears made a considerable leap from #29 to #5 with a larger than usual purchase, and Fido Wireless also jumped from #24 to #10.
In Montreal, CTV took the top spot, up from #4 the previous week. Porter Airlines made its debut at #2, and Sears made a move from #7 into #3.
The Nissan Dealer Association entered the top 10 list at #6.
Toronto:
By brand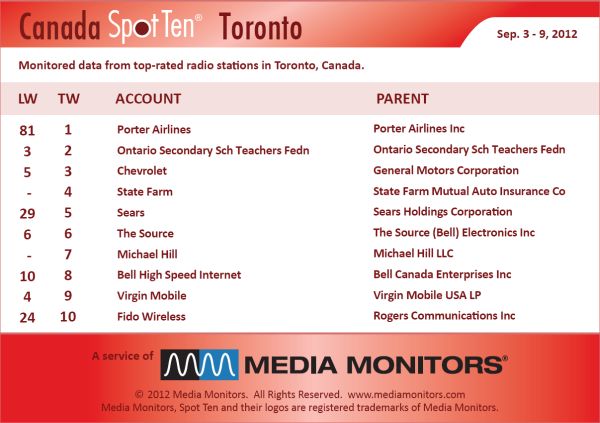 By category
Montreal:
By brand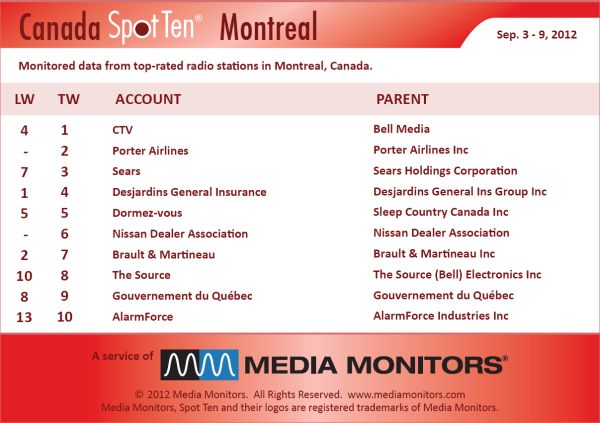 By category