Virgin Radio 96 mixes media
In addition to TV and online placements, the Astral-owned station has created a billboard that presents an RSS feed of music airing on the station in real time.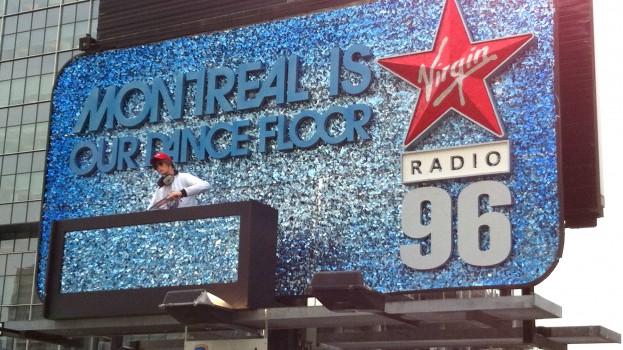 Montreal's Virgin Radio 96 recently received its very first brand campaign from parent company Astral Radio. For this, the station has chosen to use mass media to promote its offerings to the French region's anglophone market, chiefly women between the ages of 25 and 34.
Astral worked in conjunction with agency BCP to craft a three-dimensional billboard that showcases music playing on the radio station at any given moment. The board shows a real-time RSS feed of artists and songs playing on the station, as well as creative of a DJ mixing music behind a sound desk.
Similar executions have been seen in Vancouver and Toronto, but this is the first time that Astral has used the jukebox-esque billboards in Montreal, Chloé Boissonnault, senior director, communication and marketing, Astral Radio, tells MiC.
The "glamorous style" creative and glittery visuals are also making an appearance on television and online in addition to the OOH piece. There will be three 15-second animated spots on CTV, in Cineplex theatres and online. "This is the best way to reach the target audience here in Montreal," says Boissonnault. "There is more media here speaking to French listeners. So if you really want to have a good weight and reach, it's better to use a combination of TV and out-of-home."
She explains that the station "added a local flavour" to the creative by using the word Montreal in the majority of the ads, with one example being "Montreal is our dance floor." "Radio stations are really local, so people love it when they see that [our] ads are talking about their market," she adds.