Sears maintains its position: Media Monitors
The retailer stationed itself in the top spot in Toronto, with CTV coming in at #1 in Montreal during the week of Sept. 17 to 23.
Sears remained seated in the Toronto top spot of the Media Monitor charts for the week of Sept. 17 to 23.
Bell Bundle moved a significant amount, taking the #2 spot up from its previous #40 position, and RBC shifted up one place to #3.
The chart also reported considerable moves from Tim Hortons, jumping from #76 to #4 as well as from Toyota Dealer Association (from #23 to #6) and CBC (from #36 to #7). New entrant Chevrolet landed in the #5 spot for the week.
In Montreal, CTV shot to the top from the previous week's #2 spot, subsequently bumping Sears down one spot to second place. RBC also came in third in the French region (moving up from #11) as it had done in Toronto.
Another move worth mentioning, Bell Bundle jumped from #31 to #6 for the second last week of September.
Toronto:
By brand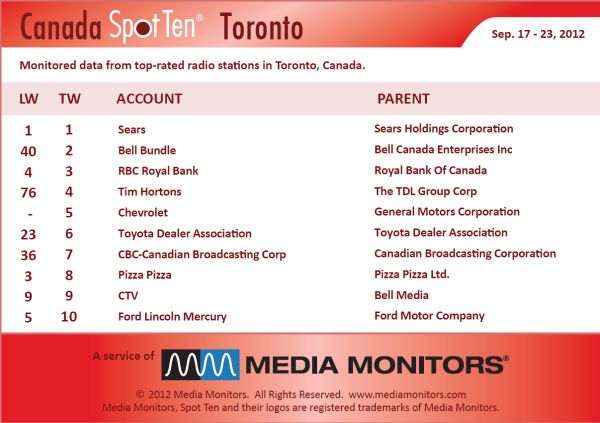 By category
Montreal:
By brand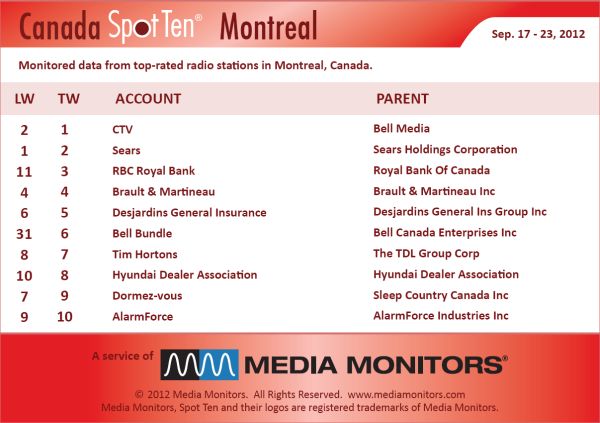 By category