HGTV gives Mike Holmes a super campaign
The reality star's new show Holmes Makes It Right is being promoted with a traditional and experiential campaign that positions him as a superhero.
New series Holmes Makes It Right is set to debut Oct. 16 on Shaw Media's HGTV Canada with Mike Holmes, clad in overalls with hammer in hand. But before making an appearance on television screens next Tuesday in the 9 p.m. timeslot, the reality star is playing superhero in an ad campaign that spans billboards, transit shelters, online video, print ads as well as TV and radio promos.
The Shaw Media internal marketing team developed the materials for the campaign that's being placed in high traffic areas as well as in home, lifestyle, reality and news print publications and sites targeting adults age 25 to 54, Solange Bernard, director of marketing and publicity, Shaw Media, tells MiC. "To best illustrate the superhero creative, we are using highly visible media choices," she adds. "There aren't many things bigger than a superhero, and every element of this campaign reinforces this concept."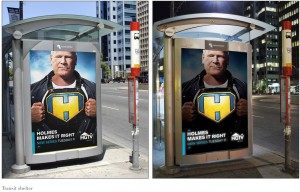 Bernard uses the first-ever light-revealing transit shelter ad as an example of the type of creative media placement that is meant to help bring Holmes' superhero character to life. The TSAs illuminate the reality star's "H" crest as well as the tune-in time and HGTV logo at night to heighten the buzz for the show, she says, further adding that "Holmes Makes It Right is an important priority for us to ensure that viewers are made aware of this new series and to build excitement and drive tune-in."
The campaign leverages what Bernard describes as Holmes' "star power" and "positions him as a larger-than-life superhero." Earlier this summer, on-air promos were placed across Shaw Media's channels to initiate anticipation, and now with the fall launch of the show approaching, the channel is increasing the television spots and will conduct an on-air domination on the day of its debut, she adds.
In addition to the traditional marketing, the channel will also conduct a "Spot a Super Holmes" contest, which challenges consumers to find and snap a photograph of one of four Mike Holmes look-alikes that will be roaming Toronto, for the chance to win cash and prizes from Milwaukee Tools and Roxul The Better Insulation. Photos can be uploaded to Facebook through an app, which Bernard hopes will increase "the viral potential of the event" and stimulate excitement for the premiere that night.