RBC stays the course: Media Monitors
The bank continues to make the largest radio airtime purchase in both Toronto and Montreal for the week of Oct. 15 to 21.
RBC maintained its top spot position on the Media Monitors chart in Toronto and Montreal, for the week of Oct. 15 to 21.
Debuting on the list in the English market, Pizza Pizza landed in at #2, while Walmart jumped to #3 from the previous week's #23 spot .
Both Honda Dealer Association and Canada's Wonderland made significant radio purchases for the week, with the former moving to #8 from #24  and the latter shifting to #10 from #30 .
In Montreal, the Bay landed in at #2 (up from #3), allowing Bell Bundle to take the department store's previous third place position (up from #4).
Canadian Tire soared to #6 from #90, while MuchMusic entered the list at #10.
By category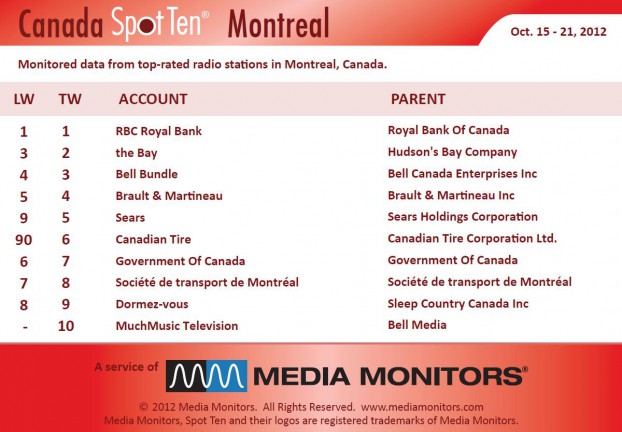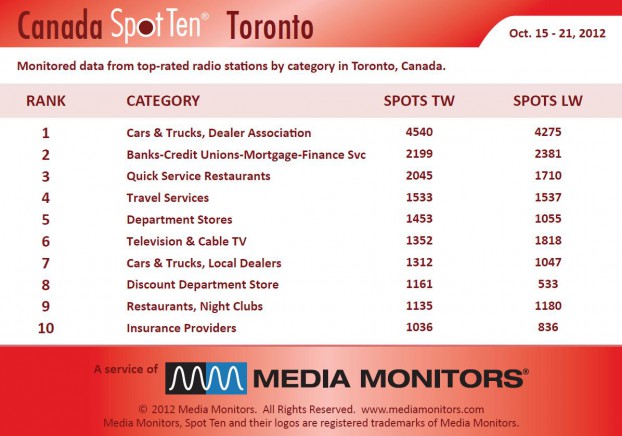 By brand