Partners for Mental Health calls BS
The latest campaign from the organization targets 15- to 21-year-olds with online, TV and in-cinema spots.
Partners for Mental Health is rolling out its second multiplatform campaign since launching earlier this year. And while the first targeted a Canadian audience of all ages, the second "Let's Call BS!" campaign speaks to youth, aged 15 to 21, Jeff Moat, president, Partners for Mental Health, tells MiC.
"We purposely went out the gates with a broad campaign where all Canadians could see themselves in our work and then we decided to shine a spotlight on a very specific demographic because  the problem of youth mental health is a significant issue for Canadians," he says, adding that five in six youth diagnosed with a mental health problem likely won't get the treatment that they need. The creative speaks to the way that society fails to support youth mental health, asking people to call BS and demand for more support services in their community.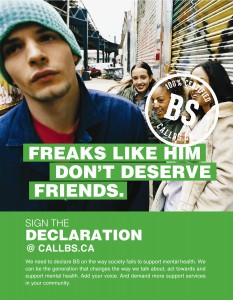 Moat says that the organization worked with Jungle Media to spread its $150,000 budget across both TV and online media. A dedicated television commercial was created by agencies Kolody and Public Inc and will begin airing today on MuchMusic, MTV, and Comedy Network. In addition, a different online spot was developed to run on the channels' online properties as pre-roll, big box and leader board ads.
The online and TV creative drives to the website Callbs.ca, while a third spot (which runs in Empire Theatres during youth-oriented films) invites movie-goers to text BS to 101010 and receive a push-back message asking them to sign their declaration of support online. "We wanted it to be very easy in cinemas, and to get the declaration in front of our target audience," says Moat of the call-to-action.
Today, the organization will hold a panel discussion with young people and experts in the field of youth mental health in Toronto. The BS[ummit] will be broadcast live on the campaign Facebook page for youth across the country to watch. "One in five young people have a mental illness or substance abuse problem and suicide is the second leading cause of death among Canadian youth, so this is a priority," adds Moat. "The more we can invest in youth the more productive and happier these kids can be."