Spotted! Walmart and Mattel take window shopping up a notch
The retailer and toy brand have launched a QR code-based shopping wall in Toronto.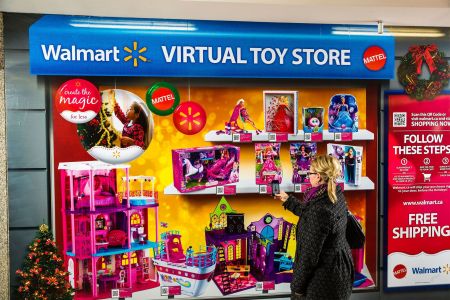 Walmart Canada and Mattel are taking its toys to the streets by launching a QR code-based shopping wall in Toronto's PATH underground walkway at Bay and Front St. They're the latest in a line of brands, including Well.ca and Tesco, to bring QR code-based shopping to life.
Running for four weeks, the virtual toy store was created by Brandfire Marketing Group working with IMA Outdoor Inc. and features two walls of 3D toy images. Customers who buy toys from the wall, which features brands like Barbie, Hot Wheels and Fisher-Price, receive free shipping on their purchases.
Melissa Chau, brand manager, Mattel Canada, tells MiC the wall was launched as a way to reach both moms and dads who would be typically going to Walmart Canada as well as business people who don't traditionally have time to get to a mall.
Chau cites comScore research which says four out of five consumers are using mobile for online purchases as a main reason why the brand is launching the QR code wall now.
"We wanted to partner and come up with a way to create an easier holiday experience for consumers during the holiday season," she says. "We want to reach time crunched consumers and business people who don't have as much access to Walmart Canada or toy stores."