Nissan sponsors special edition of Globe and Mail
The auto brand has launched an execution dominating the media co's special US election edition and online coverage this week.
In addition to its regular daily newspaper, the Globe and Mail created its first 13-page tabloid-style edition yesterday to extend coverage around today's US election.
Before the issue was produced, Nissan had challenged the newspaper to come up with an innovative placement for its ads. Judy Wheeler, director of marketing, Nissan, tells MiC that the auto brand was unaware of what the publication had planned for the special edition. It worked with TBWA\Toronto to develop ads that highlighted its vehicle's features, and then the newspaper used the creative as inspiration for the headlines and format in which the articles appeared.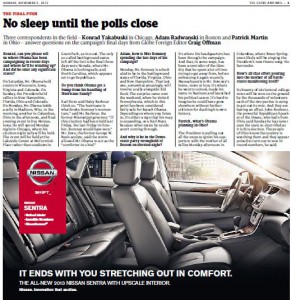 Wheeler uses the middle-section double-page spread (which featured comparison tables with price points and product attributes of Nissan's Sentra, Pathfinder and Altima vehicles) as an example of the coordinated placement handled by OMD. The creative, along with the tagline "It starts with more innovation. It ends with no comparison," plays into the idea of comparing presidential candidates, notes Wheeler. Another example is that of a half-page ad for the Nissan Sentra illustrating the roominess of the vehicle's interior, coupled with the tagline "It ends with you stretching out in comfort." The article above the ad tied into the creative with the headline, "No sleep until the polls close."
"It wasn't until we were quite far down the line before we realized that [the execution] was going to be for the elections," she notes. "This is not about US politics for us. There is a bit of a fine line, because we don't want to be seen as a company associated with one political operation versus another. So, it was about how it could be done in an educational fashion."
The brand also used Layar technology to provide mobile users with access to exclusive online content. When readers scan the ad, they are redirected to Globeandmail.com and can watch a video from Globe reporters Simon Houpt and Steve Ladurantaye on their take on the role of social media and the US election.
Yesterday, 300,000 copies of the tabloid-style issue were distributed in high traffic areas throughout Toronto, Vancouver, Calgary, Edmonton, Ottawa and Halifax, as well as in Porter airport and Via Rail lounges.  The brand's sponsorship will continue tomorrow when it dominates the News and Sports sections of the paper, as well as online with ads on the Globe's website and mobile app.