The Weather Network gets regional
With a tagline of "You have to be here to get it," the meteorological media co has launched a campaign promoting its new local focus in Calgary and Edmonton.
The Weather Network kicked off an OOH and radio campaign in Calgary and Edmonton promoting its recently launched regional broadcast feeds.
With media and creative from Henderson Bas Kohn, the campaign centres on the tagline "You have to be here to get it," using humour to draw on local pride and build brand awareness, Amanda Ploughman, CMO, The Weather Network, tells MiC. One ad in the campaign shows someone holding two extra-large hail stones that fell in Alberta with the copy "Because our stones are bigger" and another has huge snow banks with the words "Because we'd never call in the army."
"We are launching a new product in a sense, we have traditionally been a fully national weather service and this launch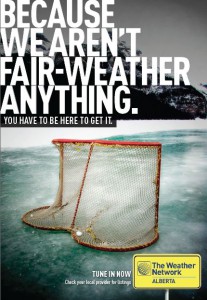 puts us out there with local weather information in key markets," she says. "If we go back historically, for a brand that is considered to be a bit conservative we have a history of tongue-in-cheek advertising that is fun to play off of."
Ploughman says the network is targeting adults 25 to 54 with its place-based marketing campaign, which will be in market for six weeks. In addition to the OOH and radio spots, two branded coffee trucks will be touring the two cities serving free coffee in cups wrapped with the new creative, she says.
Similar campaigns promoting the recent launch of regional broadcast feeds in British Columbia and Atlantic Canada will roll out later this year.