The Verdict: Samsung Canada revamps its NFL plans
Expanding its promotion to last the full season this year, the company launched a Virtual Tailgate Party for Canadians.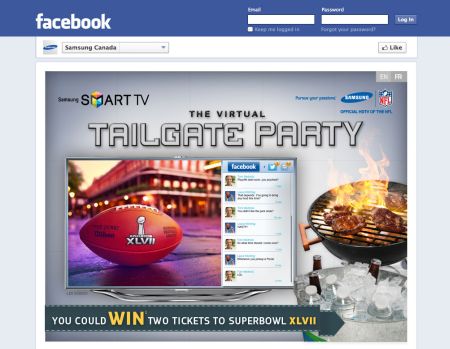 Samsung Canada, the official HDTV of the NFL, expanded its partnership with the football league north of the border this year, taking it across the full season rather than focusing strictly on the finals.
With media from Starcom and Cheil on creative, Karyn Percival-Berry, senior manager consumer electronics, Samsung Canada, tells MiC the brand launched a Virtual Tailgate Party, living online on the Samsung Canada website as well as through its social media channels to raise awareness of the partnership with the NFL as well as increase its social media presence in the country. The idea behind launching a Virtual Tailgate Party came from the insight that Canadians (due to laws) can't tailgate here like they do before football games in the US.
"The idea was to create a Virtual Tailgate Party that ran all the way through the season to the Super Bowl," she says. "We asked people to invite their friends and families to join in on the Tailgate Party and if they did they were given a ballot to win prizes, with the top prize being two tickets to the Super Bowl in New Orleans."
Samsung Canada promoted the partnership through a season-long radio campaign, changing up creative each month, with kick-off ads in September, breast cancer awareness spots in October and Virtual Tailgate promotions beginning in November.
Sample radio ads:
Percival-Berry says the partnership with the NFL is key for Samsung Canada because the football season runs through the company's key buying season, and the target demo for the sports league aligns with the electronics company's 20- to 54-year-old target demographic.
Samsung Canada got a total of about 91,000 entries into the Virtual Tailgate Party, exceeding the company's goal of 50,000, says Percival-Berry. It also increased awareness of the partnership between Samsung Canada and the NFL from 5% in 2011 to 7% this year, and 126,000 Facebook likes were directly attributed to the NFL promotion this season.