Spotted! Travel+Escape starts a food revolution
The Blue Ant Media property had a small army hand out sandwiches in Toronto to promote the series premiere of Rebel Without a Kitchen.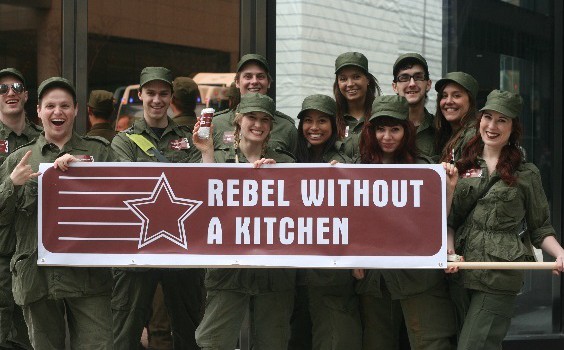 Travel+Escape rallied its troops earlier this week as part of a promotional event aimed at building buzz for the series premiere of Rebel Without a Kitchen.
Targeting the channel's core audience of adults aged 25 to 54, the event was conceived by the Blue Ant Media marketing team, and executed by Toronto-based event marketing group Blue Corporation.
The guerrilla stunt saw an army of 11 dressed in fatigues march through the streets of Toronto, handing out Havana club and el capitan sandwiches, which were inspired by the show's host, celebrity chef Fidel Gastro.
The stunt was promoted on Twitter using the hashtag #rebelwithoutakitchen, with both Travel+Escape and Gastro using their social media channels actively tweet where the army was headed.
Jennifer Mason, director, marketing communications and on-air, Blue Ant Media, tells MiC that this marks the first time the channel has used a guerrilla stunt to help launch a new show.
She adds that it was seen as the most effective way to build buzz because it allowed the channel to leverage Gastro's existing popularity, which has been built through his food truck and pop-up kitchens, as well as his established social media presence.
The stunt is one of many grassroots initiatives the channel has used to promote the show. In March, Gastro made an appearance at DX3, and more recently he brought his food truck to the Toronto Blue Jays home opener.
Rebel Without a Kitchen airs Tuesday nights at 10 p.m.