Analysts on the business of media at CMDC
Drew McReynolds from RBC and Paul Steep from Scotiabank on making better digital advertising and how social media can be monetized.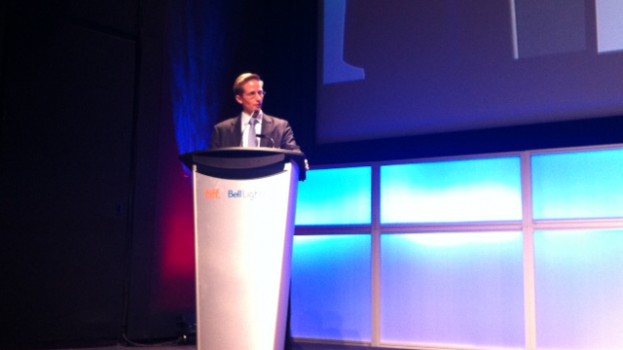 The morning talks at yesterday's CMDC conference included a session on how investors view the Canadian media landscape from financial analysts Drew McReynolds (pictured), managing director, global research, telecommunications and media, RBC Capital Markets and Paul Steep, analyst, Scotiabank Global Banking and Markets, Research Division.
Both McReynolds and Steep stressed the concerns investors have about the trading off of traditional media for digital, which brings in much less money than other mediums. McReynolds said the public markets are also concerned because the digital models have yet to be proven in terms of  pricing power.
Steep said in his mind the next big things in digital advertising are the emergence of more native advertising, like advertorials or sponsored content, which are more likely to be noticed by consumers than banner or big box ads. He also noted the emerging rise of commerce-driven advertising, such as pop-up shops from traditionally digital companies like eBay to get physically closer to consumers.
Moving from digital into mobile, Steep said 2015 will be the year more consumers view internet content on mobile devices than their computers. McReynolds says that while mobile advertising is still not significant in terms of the dollars it brings in, there are opportunities to be had on the platform, with the challenge being how to incentivize consumers to embrace merchant interactions while also getting merchants to minimize intrusion and maximizing ROI.
As yesterday's hacked Associated Press tweet about explosions hitting the White House resulting in a immediate and deep dip in the DOW proved, analysts are paying close attention to social media. But, how do they view it as part of the media mix? McReynolds says while social media is attracting large amounts of capital (Facebook is currently valued at $65 billion, which is four times more than the entire Canadian media landscape combined), there are still questions around the longevity of the medium at this pace.
McReynolds spoke specifically about Facebook, saying the main questions the platform needs to answer are: how can they provide monetization options without putting off users? How long will users stay engaged with the platform overall before becoming fatigued? And how long will the equation of personal information for network access hold up? He said the platform is essentially in a race to deliver relevance to consumers while increasing monetization options.