Canadian Cancer Society tells its story
To celebrate its 75th anniversary, the organization has launched a microsite and campaign that focus on the impact it has had.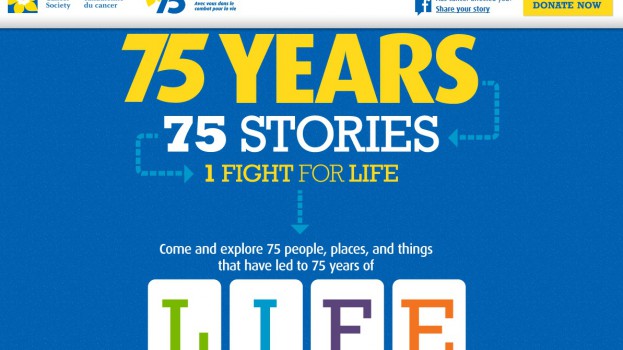 As the Canadian Cancer Society blows out the candles on its 75th birthday, it's also launching its new "Fight for Life" campaign targeted at women above the age of 35.
The new initiative, with media from MediaCom and creative by Twist Image and the Toronto-based Armstrong Partnership, features a redesigned website and a special microsite, and will rely on national TV PSAs on specialty channels like Food Network and HGTV, and online ads, as well as regional radio PSAs and print spots.
The campaign focuses on telling the story of the Canadian Cancer Society and the impact it has had over the past 75 years, while the microsite features a series of interactive infographics and 75 stories about the organization's work, as well as video and audio content.
Matt Sepkowski, marketing director, Canadian Cancer Society, tells MiC that the campaign marks the debut of a more positive brand message that emphasizes the positives of life, as opposed to the negatives of having cancer or the number of people affected by it.
He says this sets it apart from past efforts, such as 2009′s "Fight Back" campaign, which aimed to drive greater awareness and engagement with a younger audience through a more dynamic and assertive brand message focused on taking the fight to the disease.
Sepkowski says this also marks the first time the Canadian Cancer Society has rolled out an extensive microsite to support a campaign, adding that the strategy was inspired by the 75th anniversary, and that the microsite offered the organization the best opportunity to tell a deeper, more engaging  story and draw attention to what it does and what sets it apart.
The "Fight for Life" campaign, which officially rolls out in May, will run for eight weeks.