Hellmann's keeps it real
The Unilever brand is looking to build momentum for its "Real Food Movement" by turning a viral video into a new TV campaign.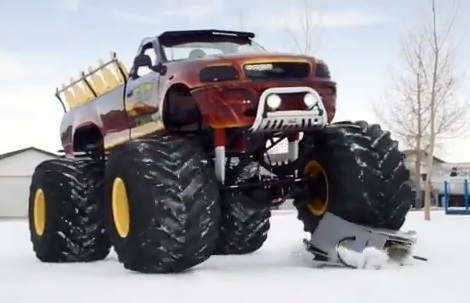 Hellmann's is looking to grow its "Real Food Movement" with a new campaign targeted at moms aged 25 to 54 and their kids.
With media by Mindshare, creative by Ogilvy and in-store by OgilvyAction and Guelph, ON-based Integrated Marketing, the new initiative relies primarily on a TV campaign, with spots airing nationally on conventional and specialty channels like W Network, YTV, Food Network and Canal Vie.
The TV creative highlights the brand's "Real Food Grant Program," an initiative through which it donates $100,000 annually to projects that help educate Canadians about fresh food, and help connect them to local food. In the spot, students at Camille J. Lerouge School in Red Deer, AB, which was given $25,000 in 2012 for a new kitchen, celebrate as a monster truck crushes their old deep fryer.
Allison Leung, marketing director, Unilever Foods, tells MiC that the video of the event was initially launched online on the "Real Food Movement" website at the end of 2012, and has since garnered about two million views.
She says that this is the first time Hellmann's has brought its Real Food message to TV, adding that repurposing the creative for TV presented the brand with an opportunity to build on its momentum and connect more directly with moms and kids by reaching out to them in the living room.
Leung says Hellmann's launched the "Real Food Movement" as a long-term brand strategy in 2007, with the debut of the "Urban Gardens Initiative," which encouraged Canadians to help it grow local food on plots of land around urban centres.
In 2009, the brand transitioned to "Eat Real, Eat Local," a social effort that asked Canadians to pledge to eat local food. In return for each pledge, the brand donated 25 cents to the non-profit Evergreen. Hellmann's followed this up with the introduction of its "Real Food Grant Program" in 2010.
Leung says the "Real Food Movement" is different for Hellmann's because it is aimed more at children and teaching them healthy eating habits than its traditional campaigns. She adds that the initiative also allows the brand to do something unique to Canada, since many of its campaigns are repurposed from the US.
The campaign will run until July 1.
Leung says Hellmann's will be introducing the latest phase of the campaign within the next couple of months, and adds that the current campaign was a means for the brand to build momentum leading up to the announcement.